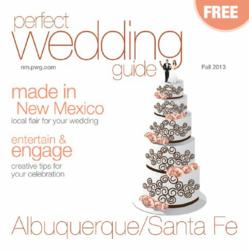 Albuquerque, NM (PRWEB) June 26, 2013
The fall 2013 issue of the Albuquerque/Santa Fe Perfect Wedding Guide will be hitting the streets July 26, 2013 and will be available in 340 distribution locations throughout the Albuquerque and Santa Fe areas circulating 7,000 copies. Engaged couples can order a copy of the guide or view the online version by visiting nm.pwg.com.
Some of the features of this issue include a six-page feature on products made in New Mexico that would be perfect additions to any New Mexican wedding, a four page "Entertain & Engage" feature sharing creative entertainment tips for weddings by local bands and disc jockeys, and three beautiful real weddings from New Mexican brides. Brides and grooms can browse over 100 local wedding professionals located in either Albuquerque or Santa Fe, each product and service conveniently organized in the purse-size guide. Best of all, the Perfect Wedding Guide is no-cost for all to pick up, use, and share with others.
Be sure to visit nm.pwg.com to register for the 12 Months 24 Giveaways promotion where a complete list of prizes can be found in the fall 2013 issue of the Perfect Wedding Guide. A winner is chosen every two weeks and has the opportunity to choose from the available list of prizes. Each prize is valued at more than $250.
About Perfect Wedding Guide
Since 1991 Perfect Wedding Guide, has been has been a leader in providing local resources to engaged couples and wedding professionals. Perfect Wedding Guide's multi-platform approach includes free local bridal publications, online business listings, local bridal shows, database marketing, and networking events that connect brides and businesses during the wedding planning process. For couples, PerfectWeddingGuide.com provides a list of comprehensive online planning tools including a budget calculator, a seating chart, wedding Website templates, a monthly calendar and a checklist feature for task management, which can all be accessed, viewed and organized with a dashboard feature. In addition, brides and grooms can search the Website to find wedding professionals in their area for their big day. PerfectWeddingGuide.com also includes an array of content, focusing on ideas, how-tow instructions and tips for optimal planning. Other online resources include a daily wedding blog, Head Over Heels, hosted by national and celebrity planning expert, Susan Southerland; free downloadable planning eBooks; an extensive photo gallery with the latest in bridal fashion, and more. For wedding professionals, Perfect Wedding Guide provides multiple platforms for businesses to engage with brides and the wedding community. With more than 120,687 wedding professionals online nationally, Perfect Wedding Guide can be found in print in over 50 metropolitan areas, online in another 60 markets, in the social space with Facebook, Twitter, Pinterest, on mobile devices at m.perfectweddingguide.com, and via free mobile apps for iPhone, Android and iPad devices.
For more information on our products, services and advertising opportunities, visit http://nm.pwg.com.