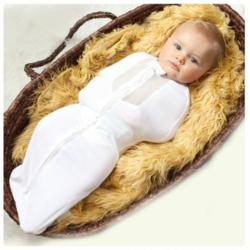 West Des Moines, Iowa (PRWEB) June 27, 2013
Bliss Baby & Maternity now carrying Woombie Baby Products. Parents know all too well how difficult the transition from birth to 6 months can be…sleepless nights, confusion, just not knowing…..feeling overwhelmed, trouble feeding baby, colic issues, and of course, the wonderful hormonal shifts that make a new mom laugh or cry.
Most parents are taught about the comfort and benefits that are achieved from swaddling a baby, which has been practiced for hundreds of years. What is not known is how difficult it can be to get the perfect swaddle. Wrapping baby and then rewrapping baby over and over again. On and on and on it goes, all night long. Babies can be strong little kickers and always seem to fall out of the swaddle. The baby can become unraveled all night long. After unraveling themselves, many babies root and the swaddle comes right up over the face and mouth and they try to eat it. Time and time again, this can happen and it can be quite scary for a new mom or dad. Not good for the air flow to say the least.
Even as a seasoned parent, there are still new issues arising, as every baby is so unique. Keeping baby sale and comfortable is the number one thing a parent wants to do. Getting up every 2 hours during the night can be draining for not only mom, but everyone in the house - both emotionally and physically. Every bit of help is a gift and a savior! Swaddling is beneficial for babies safety and comfort, to both prevent them from scratching themselves and also prevent the startle reflex. It needs to be comfortable and to stay put! Velcro almost always detaches as baby stretches during the night, and blankets unravel and may overheat baby, or end up over the baby's face contributing to SIDS. Parents need something that stays intact and snug, but at the same time, allow the baby to stretch out if needed, where the fabric would then automatically reconform to a snug cocoon-like or peanut shape afterwards. This baby swaddle was created and is gentle. No "arms pinned to the side swaddle", a stretchy but effective peanut, which was ergonomical to the shoulder, waist and hip curves.
Parents love The WOOMbie because of its easy IN/OUT design, stay put zipper which will not open or unravel and its unique 4 way stretch material. In a nut-shell, the WOOMbie helps to maintain the comfort levels of both baby and parent, easing undue stress and promoting a more peaceful environment, which is greatly, greatly needed and appreciated during the first few months of life during transition from the womb. So many new parents and babies are achieving a smoother transition from womb to 6 months after using the WOOMbie.
Woombies can be used in the summer or the winter. There are a variety of lightweight fabrics for summer and heavier fabrics to include fleece for winter.
Find a variety of Woombie products available at http://www.blissbabyandmaternity.com and stop by soon to shop for an additional 10% discount on your order by entering SUMMER10 at checkout.