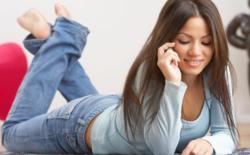 Never lose touch with loved ones again. With the lowest international rates on the market, friends and family are only a phone call away.
Los Angeles, CA (PRWEB) June 28, 2013
Pure Minutes announces a new way to save on international long-distance that's as easy as picking up the phone. Pure Minutes provides a low-cost international calling solution that works with any phone number, regardless of the current provider. This means that a user can enjoy the benefits of low international rates without needing to change their current landline or mobile cell phone service provider.
The revolutionary Pure Minutes system instantly recognizes subscribers through an automatic caller identification which eliminates the need for complicated PIN numbers typically found on calling cards. In fact, Pure Minutes has eliminated the need for calling cards altogether. Topping up the minutes has never been easier using any of the convenient recharge locations around the world or online with any major credit card, cash, or a paypal account.
Never lose touch with loved ones again. With the lowest international rates on the market, friends and family are only a phone call away.
For a limited time, new users can get a $3 free trial with no obligation by texting the word PURE to 74121 using your Mobile Phone.
Supported Carriers: AT&T, Sprint, Nextel, Boost, Verizon Wireless, U.S. Cellular®, T-Mobile®, MetroPCS, Tracphone, Cricket, Cellular One Dobson, Cincinnati Bell, Alltel, Virgin Mobile USA, Cellular South, Unicel, Viaero Wireless US, Centennial and Ntelos.
Message and data rates may apply. For help or information on this program send "HELP" to 74121. To cancel your plan, send "STOP" to 74121 at any time. For additional assistance, contact customer service at 1-866-558-4169. For full terms and conditions, visit http://www.cdyne.com/shortcode/us/toc.aspx?shortcode=74121 Msg Freq 5 per day.
To learn more about Pure Minutes and our exclusive system which eliminates the need for complicated PIN numbers visit our website at (pureminutes.com) and get up to 60 free minutes for first time customers.
The Pure Minutes difference

No Hidden Fees
No Connection Fees
No Maintenance Fees
Real Minute Rounding
No Contract Required
Minutes Never Expire
Low International Rates
Reliable, Clear Quality
About Pure Minutes
Pure Minutes is a prepaid international long-distance calling solution. We provide low-cost international calling without the need of changing a customer's current landline or mobile phone provider that may have expensive and limited international calling plans. Subscribed callers simply dial a local access number and through modern "Automatic Caller Identification" software we can recognize a subscribed caller making the need for complicated PIN codes a thing of the past. Once identified by the system, users can dial an international destination over the network experiencing quality talk time at low-cost rates. Pure Minutes allows users to pay per call for the minutes they want to use without the worry of expiring minutes, hidden fees, or annual contracts.
Pure Minutes LLC is a leading provider of prepaid international long-distance calling solutions. We provide an affordable communication solution that offers flexibility, portability and ease-of-use for both landline and mobile users. Pure Minutes offers competitive international calling worldwide with no hidden fees, no maintenance fees, no contract required, and minutes that never expire. Pure Minutes service is sold on the web and through regional and national retailers including MoneyGram, La Nacional and payXchange and is available to customers worldwide in English (pureminutes.com) and in Spanish (pureminutes.com/index.aspx?LanG=SPA) and accepts payments through all major credit cards and Paypal.
Follow us on Twitter (@PUREMinutes), Facebook (facebook.com/PUREMinutes), and LinkedIn (PUREMinutes, LLC) for up to the minute updates.