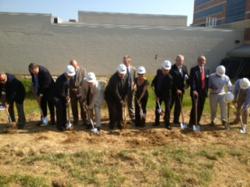 Washington, DC (PRWEB) June 26, 2013
Johns Hopkins Medicine and Turner Construction Company broke ground yesterday on the New Sibley Memorial Hospital - a 469,000 SF, all-private 200 bed hospital in Northwest Washington, DC. The new Sibley will include an expanded Emergency Department, inpatient pharmacies, 50 postpartum rooms and an 18-bay special care nursery.
The new, larger Emergency Department will be sized for 45,000 projected annual visits and includes new treatment bays and waiting areas. Space will be also be allotted to house a new central chiller plant and consolidation of all emergency generators. A new stair, elevator, and ramp for circulation will also be added to an existing parking garage.
The New Sibley is a continuation of Sibley Memorial Hospital's long range master plan. This project will accommodate projected increases in annual demand for emergency services, imaging and diagnostic services, outpatient services and medical oncology. The New Sibley was designed and will be constructed to achieve LEED Silver Certification from the US Green Building Council.
"This project is a monumental milestone for Johns Hopkins Medicine and healthcare in Washington, DC. We are proud to be involved with projects that positively affect our community and make a difference in the lives of those around us.," said Ken Jones, Turner's Vice President and General Manager.
About Turner Construction Company
Turner is a North America-based, international construction services company. Founded in 1902 in New York City, Turner has 5,200 employees worldwide and works on 1200 projects each year, for an annual construction volume of $8 billion. As the largest general builder in the United States, Turner ranks first or second in the major market segments of the building construction field, including healthcare, education, sports, commercial, telecommunications, and green building. The firm is a subsidiary of HOCHTIEF, a publicly traded company, and one of the world's leading international construction service providers.
For more information please visit http://www.turnerconstruction.com.
About HOCHTIEF
HOCHTIEF is one of the leading international providers of construction-related services. With more than 80,000 employees and a sales volume of EUR 23.28 billion in FY 2011, the company is represented in all the world's major markets. With its core competencies in development, building and operation, the Group delivers services for the entire life cycle of infrastructure projects, real estate and facilities. The focus of the related business activities is on four strategic areas: energy infrastructure, transportation infrastructure, major cities, and resources. With its subsidiary Leighton (HOCHTIEF share around 54 percent), the Group is market leader in Australia. In the USA, the biggest construction market in the world, HOCHTIEF is the No. 1 general builder via its subsidiary Turner and, with Group company Flatiron, ranks among the most important players in the field of transportation infrastructure construction. Because of its engagement for sustainability, HOCHTIEF has been listed in the Dow Jones Sustainability Indexes since 2006. Further information is available at http://www.hochtief.com/press.
About Sibley Memorial Hospital
About Sibley Memorial Hospital: Serving Washington, D.C.
since 1890, Sibley Memorial Hospital is a 318-bed acute care
nonprofit hospital. Sibley is accredited by the Joint Commission
and is licensed by the District of Columbia Department of Health
and Human Services. Sibley is a proud member of Johns Hopkins Medicine. Visit us at http://www.sibley.org.