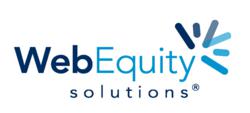 Omaha, NE (PRWEB) June 27, 2013
WebEquity® Solutions announced today the appointment of Michael Alessandro as executive vice president of sales. Mr. Alessandro brings more than 18 years of sales management experience with industry leaders, including IBM Corporation and AT&T, and assumes responsibilities for advancing WebEquity's leadership position as the fastest growing commercial lending software platform in the United States.
Financial institutions use WebEquity's software solutions to automate credit analysis, loan portfolio stress testing and Allowance for Loan and Lease Losses processes in order to better manage credit quality and risk. "WebEquity is poised for ongoing leadership and aggressive growth in the commercial lending market and particularly in the lending analytics area," says Doug McGregor, CEO. "Michael's analytics background and strong track record in sales leadership will be instrumental in continuing our upward sales trajectory and expansion into larger banks as our product scales through a true SaaS model."
Alessandro confirms that analytical capabilities continue to grow in importance for financial institutions of all sizes as they face a highly competitive and intense regulatory climate. "WebEquity represents a tremendous opportunity to join a fast growing company offering 100 percent cloud-based solutions to the financial services industry," he says. "I am excited about the opportunity to help drive strategy and lead the sales and marketing organizations to deliver on our growth goals".
For the last 13 years, Alessandro held a variety of sales leadership positions at IBM, where he most recently headed the Business Analytics software organization for the U.S. Western region. He led a team of 150 sales and technical professionals responsible for driving high growth in IBM's strategic areas of predictive analytics, business intelligence, social media analytics, financial performance and risk management software products. Alessandro holds a bachelor's degree in business administration from the University of Nebraska and a master's from the Kellogg School of Management at Northwestern University.
WebEquity engaged Spectrum Search Partners, a national retained executive search firm headquartered in Denver, Colorado, to conduct the executive vice president of sales search.
For more information please contact Mallory Eberle at 800.264.0787 ext. 3, email mallory(dot)eberle(at)webequitysolutions(dot)com or visit http://www.webequitysolutions.com.
About WebEquity Solutions LLC
WebEquity® is the proven leader in on-demand lending software. More than 750 financial institutions and 20,000 lending professionals use WebEquity to automate and streamline their lending process and reduce operational costs, while making more uniform and profitable credit decisions. The company offers financial institutions distinct advantages that include a single solution that works for all loan types; an on-demand model that provides centralized, anywhere access; and the flexibility to configure the system to fit their lending practices. WebEquity serves institutions in the U.S., Canada and Australia and is the Preferred Service Provider of the Independent Community Bankers of America (ICBA) for commercial/Ag lending, stress testing and ALLL software.
Contact:
Mallory Eberle
Marketing Manager
WebEquity Solutions
mallory.eberle(at)webequitysolutions(dot)com
402.344.5252