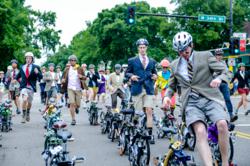 While definitely a bit weird, this is a very well-loved event," says Luke Breen, owner, Calhoun Cycle, organizer and host of this year's annual event.
Minneapolis, Minnesota (PRWEB) June 26, 2013
Winners of arguably the most colorful, attention- getting bicycle race in the United States were named this weekend. The quirky Brompton U.S. Championship bicycle race saw amateur athletes from around the country travel to the Midwest, suit up in business attire and go head to head on their folding, 16-inch wheel Brompton bicycles along the streets of Minneapolis.
Men's winner, Stephen Regenold and women's top performer, Beckie Alexander of Minneapolis, MN competed against Bromptoneers from Atlanta, Boston, Chicago, Los Angeles, Tucson, and Portland, Oregon, among other locales. The winners both earn trips to London, England this July to compete against a field of 1,000 contestants from all over the world in the Brompton World Championship.
Organized and hosted this year by Calhoun Cycle of Minneapolis, The Brompton U.S. Championship race is part sartorial spectacle and part serious sporting event, where avid Brompton riders compete aggressively to win the race but taking the best-dressed award is just as contested. Participants race wearing suit jackets, neckties, argyle socks or other colorful business attire of their choosing. Helmets are mandatory but no Lycra may be visible during the race. In all, the event consists of a six-mile road race around a tight circuit on a closed street in Uptown Minneapolis, a best-dressed contest, and heats to win the folding contest —where every millisecond counts— in which athletes race the clock to fold down their Brompton bicycle. Folding is an act which many Brompton owners do daily when stowing the bike in an apartment, on the bus, or under the desk at work.
Runners up in all categories received prizes from event sponsors Brompton, Brooks England, Nutcase Helmets, Schwalbe North America, and Walz Caps. Four race participants took home the Triple Crown Award, new this year, for their participation in all of the weekend's events including Sunday's race and two recreational rides the day prior. Susan Todzy and Bill Hay, women's and men's winners in the best-dressed category each earned a gift certificate from custom-clothiers Top Shelf of Minneapolis good towards a custom shirt and fitting at the shop's Lyndale Avenue South location, located at the north end of this year's race course.
The 2013 event took place in the aftermath of violent storms that downed trees and power lines around the course. But the weather did not deter a large crowd of spectators who turned out to line the streets of Uptown, Minneapolis.
"This weekend's storms couldn't stop Uptown residents and Brompton fans from coming out to see commuting bikes zoom along at racing speeds. While definitely a bit weird, this is a very well-loved event," says Luke Breen, owner, Calhoun Cycle, organizer and host of this year's annual event. "It takes more than a crack of lightning and fallen trees to keep Minneapolitans off their bikes. We're thrilled so many families turned up to watch today's race."
2013 Brompton U.S. Championship Winners
Men's race: Stephen Regenold
Women's race: Beckie Alexander
Junior race: Nico Alexander (under 18)
Senior race: Ed Stiles (over 60)
Fastest Fold: Todd Crawford
Best Dressed Woman: Cynthia Rose
Best Dressed Man: Bill Hay
Triple Crown Award: Ed Stiles, Francie Stefan, Cynthia Rose, Bryan Beretta
For more information on this year's race, event, winners and Brompton bicycles visit:
http://www.bromptonuschampionship.com or http://www.calhouncycle.com.
###
About Brompton (http://www.brompton.co.uk)
All Bromptons are designed and built in a factory in West London, England. Brompton has been in full production since 1988. The company remains in private hands and is now led by Will Butler-Adams, though the Brompton's inventor, Andrew Ritchie, continues to act as Technical Director. Today, Bromptons are sold in 42 export markets. In the UK, USA, Canada and Ireland, Brompton bikes are sold directly to bicycle retailers.
About Calhoun Cycle (http://www.calhouncycle.com)
Calhoun Cycle is a great group of people who believe in human power. They think spinning on a bike is a great way to physical, emotional and spiritual fitness. Reducing pollution, road congestion and parking stress are additional benefits. The bicycles and accessories sold at Calhoun Cycle are designed to help cyclists be successful, whether touring Nepal or bopping around the corner for milk. Calhoun Cycle has been selling, repairing and renting bicycles in Uptown Minneapolis for over 20 years.