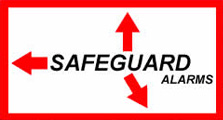 "With all of the freedom smart phones allow young children, there is finally an app that allows parents to protect them as well," Bob Scales, Owner, Safeguard Alarms
Kansas City, MO (PRWEB) June 27, 2013
The Linked24 App is a security application for smart phones that can protect tweens and teens from several common dangers including bullying, sexting, and even texting at inappropriate times. This smart phone app can help parents monitor where their children are (and even inform them if they don't arrive at a preset destination on time), what and when they are texting, as well as provide a ten-second emergency video if the child feels threatened or the phone is dropped after activation.
ProActive GPS Tracking - Linked24 allows parents to track the location of up to ten phones, (the app updates locations every 2-5 minutes). But the ProActive GPS used by Linked24 allows parents to receive an alert if their child does NOT arrive at a specific destination as well. Instead of relying on the busy parent to check their phone for their child's GPS location, Linked24 will send an alert when they don't show up so the parent can take action.
Text Monitoring - The Linked24 App also allows parents to safeguard their child's texting. Parents can set notifications for exceeding a specific number of texts as well as notifications for texting outside set hours. The app allows monitoring of content as well and notifies parents of any inappropriate texts or photos sent or received and can also notify parents of texting while driving (content monitoring and texting while driving features are currently available only on android phones).
Emergency "Shake" Feature - If a child feels uneasy or threatened, all they have to do is click on the Linked24 App on their phone. A video recording will begin if the phone is shaken or dropped. Linked24 will automatically record 10 seconds of video and audio and upload it to their secure servers. Then it transmits a distress message and email notifies the parent that their child may need help.
To learn more about the Linked24 App, visit the Safeguard website at http://www.SafeguardKC.com.