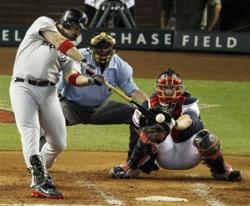 "We sign up for a Suite then we show up, have fun, and go home. Simple as that. Ultimate Sports Adventures handles all the details." -- Peter (Bakersfield, CA)
San Diego, CA (PRWEB) June 26, 2013
Ultimate Sports Adventures, a leading provider of high-end ticket packages to major sporting events, has limited availability of a 20 Person private luxury suites / skyboxes for the July 15th and July 16th Home Run Derby and All Star Game at Citi Field in New York.
The suite offers an unobstructed viewing of the action with plush theatre style seats, multiple flat screen TVs, a social area, and offer premium food & beverages within the suite.
The first Home Run Derby in 1985 featured five from each league, and the 1986 and 1987 events featured three and two players from each league, respectively. In 1996, the field was again expanded to ten players, five from each league (though in 1997, the AL had six contestants to the NL's four). Detroit's Prince Fielder captured the Crown in 2012. For this coming contest, David Wright of the host New York Mets was chosen to captain the National League squad while Robinson Cano of the Yankees was chosen for the American League.
The first All-Star Game was held as part of the 1933 World's Fair in Chicago, Illinois, at Comiskey Park and was the brainchild of Arch Ward, then sports editor for the Chicago Tribune. Initially intended to be a one-time event, its great success resulted in making the game an annual one. Ward's contribution was recognized by Major League Baseball in 1962 with the creation of the "Arch Ward Trophy", given to the All-Star Game's most valuable player each year.
The Private Luxury Suite comes with 20 VIP Luxury Suite Tickets and offers a Climate Controlled Environment. The Home Run Derby Suite is priced at only $17,500 and the MLB All Star Game Suite is priced at only $36,000. Compare these prices per ticket to the infield lower level and you'll see a great deal.
Ultimate Sports Adventures is considered an industry leader in providing VIP Experiences at Major Sporting Events including the Super Bowl, BCS National Championship, Masters Golf Tournament, Ryder Cup, World Series & MLB All Star Game, along with Big Game Fishing Trips to Alaska, Panama, Mexico and all over the United States and Canada. To reserve a Luxury Suite / Skybox, Ticket Package, or a Fishing, Hunting, Exotic Car Driving Experience, call Ultimate Sports Adventures toll free at 1-877-225-2155 or 619-270-2276.
There is no sold-out game! Ultimate Sports Adventures has your tickets.