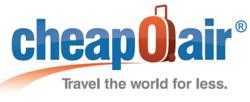 New York, New York (PRWEB) June 26, 2013
Leading travel website CheapOair launched today its language personalization option, for the first time allowing customers to search and book flights in Spanish. This development is the latest in a suite of enhancements to be rolled out over the coming months, aimed at improving customer experience through innovative technologies developed by CheapOair.
With the US Census Bureau indicating that the total U.S. population of Hispanic descent will reach 19.4% by 2020, CheapOair recognized the need to better serve a global audience by making travel purchasing hassle-free for Spanish speaking customers.
"We saw this as an opportunity to personalize our offerings to meet our customers' needs," said Harsh Sood, Chief Technology Officer at CheapOair. "With our bookings to Spanish-speaking destinations increasing year over year, we want our customers worldwide to know that we appreciate them and their needs."
The Spanish site will be available on the CheapOair touch sites for iPad and tablet devices. On touch, customers can switch between English and Spanish without losing their search results. While other websites offer language personalization, CheapOair is one of the only top OTAs to allow customers to translate the page mid-search. On the touch site, CheapOair customers have the ability to translate anytime during their search and stay on the same page.
To decide which additional languages to implement, CheapOair reviewed its booking data and concluded that in 2012 and 2013, top international destinations included Cancun, Mexico City and Guadalajara, Mexico, Lima, Peru and Barcelona, Spain. With so many customers purchasing travel to and from these Spanish-speaking destinations, the option for language personalization will improve user experience for CheapOair customers around the world.
CheapOair is also seeing a strong customer demand for travel to Asia and will soon offer the option to view its site in Chinese. Additional languages are to follow.
To experience CheapOair in Spanish, visit http://www.cheapoair.com/es or http://www.cheapoair.com/touch on iPad and tablet devices.
ABOUT CHEAPOAIR
CheapOair.com is a top travel website for millions of travelers who expect more for less. CheapOair scans over 450 airlines in seconds to return guaranteed low prices on flights, hotels, car rentals and vacation packages, making planning and booking trips easy and hassle-free. With 24-hour support by phone and live chat, award-winning apps for iPhone and Android, and travel tips on Facebook and Twitter, CheapOair makes affordable travel possible anytime, anywhere. Book travel on the CheapOair website or call 1-800-566-2345.