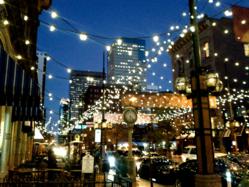 FORETHOUGHT.net, a local Downtown Denver internet, phone and cloud provider is a great fit for Larimer Square.
Denver, CO (PRWEB) June 27, 2013
As the Mile High City's oldest and most historic block, Larimer Square is now lit with FORETHOUGHT.net fiber internet broadband. These increased internet broadband options and speeds will elevate this area as rich in history as it is in dining and fine shopping.
Larimer Square became Denver's first historic district in 1971 – and is outlined alley to alley as Larimer Street from 14th to 15th Streets. Larimer Square, now owned by Jeff Hermanson, currently has more than 100 tenants with 40 retail/restaurant merchants included.
FORETHOUGHT.net provides a range of Internet only and package options up to one gigabit speeds. "Keeping with Jeff Hermanson's fresh and artisanal vision, FORETHOUGHT.net, a local Downtown Denver internet, phone and cloud provider is a great fit for the Square," said Jawaid Bazyar, owner of FORETHOUGHT.net. "We are truly proud to deliver internet service in historic areas of Denver and Larimer Square is no exception."
To learn more how to get FORETHOUGHT.net internet services or its voice and data offerings, visit FORETHOUGHT.net or call us at 303-815-1125 for more information.
###
About FORETHOUGHT.net
Since 1995, FORETHOUGHT.net is a leading locally owned and operated IT and communications service provider, offering a portfolio of enterprise-level cloud hosting, colocation, Internet, voice and data solutions for Colorado businesses.
FORETHOUGHT.net specializes in delivering the FORETHOUGHT.net experience via honoring its customer, delivering on its promise, and being vigilant about constant improvements. FORETHOUGHT.net believes businesses simply need internet and phone to work consistently and that they should only pay for what they need and use. The FORETHOUGHT.net promise is to provide businesses with well designed technology solutions combined with its ethical partnership so technology feeds businesses instead of the other way around. FORETHOUGHT.net specializes in earning its long-term loyalty by consistently providing a professional response system.
To learn more about what to look for in a Colocation Provider, check out our Top 10 Items to Expect from a Colocation Provider.