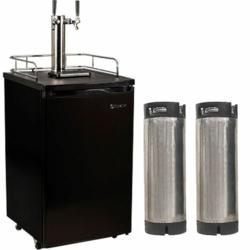 Austin, TX (PRWEB) June 27, 2013
The new Edgestar Ultra Low Temp kegerator is just one of several new kegerators available at kegerator.com. The new line of in-home systems are specifically tailored to the needs of home brewers, while simultaneously being flexible enough to be a great fit in any home.
A popular highlight of the new Edgestar Ultra Low temp kegerator is the home brew conversion kit. This kit allows home brewers to dispense two of their own brews by using the empty reconditioned ball lock Cornelius kegs that are included. This dual tap kegerator is designed to easily transition from Cornelius kegs to traditional commercial kegs as well.
Another unique feature is the commercial-grade components. All of the components needed to immediately get the kegerator setup are included. This includes a 5lb CO2 cylinder, regulator, stainless steel draft tower, faucets, tap handles, and standard "D" couplers. The beer and gas lines are NSF approved.
The new Edgestar Ultra Low Temp kegerator is capable of reaching temperatures in the low 30's. This makes it one of the coldest kegerators to hit the market in recent years.
Kara Zorn, Director of Business Development, stated, "At kegerator.com we strive to provide our customers with a diverse set of products to choose from while maintaining the highest standards for each individual product. The recent release of the new Edgestar Ultra Low Temp kegerator is an excellent example of the new designs, styles, and performance we are constantly adding to our online store."
Kegerator.com is part of the Living Direct family, which is celebrating its 13 year anniversary by launching a variety of new products across their network of sites. Living Direct was recently received an "Excellent" rating by STELLA Service, a leader in evaluating customer service for online stores.
Kara Zorn went on to note, "We are confident the Edgestar Low Temp kegerator will appeal to both serious home brewers and casual beer drinkers. It is designed to meet the needs of a broad audience without sacrificing the quality Edgestar is known for."
Kegerator.com is a part of the LivingDirect.com family. Explore everything Kegerator.com has to offer at their website and find out about recent news on their blog. You can also follow them on Facebook, Twitter, and YouTube.