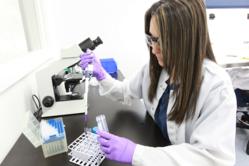 What a great opportunity to further educate exacting parents on the importance of cord blood banking, and to explain the differences between the noncontroversial stem cells is definitely rewarding
Miami, Florida (PRWEB) June 28, 2013
The South Florida Parenting Baby Fair will provide GeneCell the opportunity to offer South Floridian families additional information regarding cord blood banking education as well as options available to them. The event is set to take place Saturday, June 29, 2013, from 11 a.m. to 4 p.m. at the Pavilion Grille, at 301 Yamato Road, in Boca Raton, Florida.
"What a great opportunity to further educate exacting parents on the importance of cord blood banking, and to explain the differences between the noncontroversial stem cells is definitely rewarding," said GeneCell's Physician Relation's Manager, Lisa Lorraine Reyes Muñoz.
GeneCell anticipates to create further cord blood awareness by educating expecting parents on what is cord blood stem cells, why bank them, the current treatable diseases and future potentials. GeneCell also expects to present other services from its stem cell portfolio, including cord tissue, dental pulp and adipose tissue stem cells.
GeneCell International specializes in the collection, transport, processing and cryogenic storage of adult stem cells from various sources including; umbilical cord blood, dental pulp and adipose tissue (fat) that can later be used to treat a variety of diseases. The laboratory is also involved in scientific research and development with a range of stem cells from various adult tissues.
Umbilical cord blood preservation is a process by which blood is collected from the umbilical cord of a newborn baby and is stored cryogenically in a specially-designated bank. According to the National Marrow Donor Program, cord blood contains cells that can be transfused to a patient to treat various diseases, including lymphoma and leukemia. Currently, there are approximately 80 diseases and the list of illnesses utilizing cord blood stem cells, as a treatment, continues to grow.
Presently, GeneCell International conducts monthly cord blood and dental pulp banking workshops at its Miami, West Kendall, facility to educate and update the community on the advancements of stem cells, both hematopoietic (cord) and mesenchymal (cord tissue, dental and adipose).
GeneCell is a trusted provider in the collection, processing and storage of adult stem cells from various sources which have the potential to treat a variety of diseases and disorders. Headquartered in Miami, Florida and with local offices in Central Florida, and international offices in Colombia, Costa Rica, Dominican Republic, Honduras, Peru, Puerto Rico, and Venezuela, GeneCell operates state of the art laboratories and storage facilities for the cord blood and dental pulp of thousands of clients.
For more information and to learn more about cord blood banking, dental pulp or other GeneCell services, please visit our website at http://www.GeneCell.com.
# # #