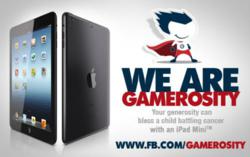 Camas, WA (PRWEB) June 27, 2013
Management at The Soothing Company was proud to announce that they have become an Official Sponsor of Gamerosity. It was just another way that they could give back to the community. This worthwhile charity raises funds in order to purchase iPad Minis, iPod Touch, Nintendo 3DS, and other items to bring some cheer into the lives of these kids stricken with Cancer.
Gamerosity designs and offers for sale Special T-Shirts designated for each child in the program. After a certain number of sales are made, the child is sent his gift package. This Charity is changing the treatment experience for kids. They are giving the kids something to look forward to, and to be able to put their problems to the side while they enjoy a game or two.
Anyone can go to the Gamerosity site and nominate a "Little Hero". After approval, a campaign will begin to raise funds, with each "Little Hero" having their own Fund-Raising Page. The "Hall of Heroes" displays a gallery of all the kids on the program. It is hard to go the site and not want to help each and every one of the kids. This is how The Soothing Company got involved, they couldn't resist the idea of making the kid's lives more fun amidst all the hardships they must endure.
When it comes to products that help relax and soothe the body and mind, The Soothing Company has taken a comfortable lead amongst others in the industry. They became well-known for offering a wide range of high quality products that help people turn their home or office into their own peaceful sanctuary. This is done by providing products that are both soothing and that complement the environment.
The Soothing Company has everything from Water Fountains to Fireplaces to Bean Bags to Relaxing Art. Established in 2008, The Soothing Company offers free shipping and great customer service.