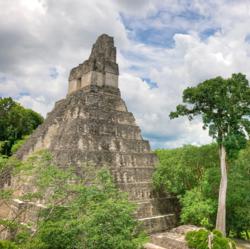 On this tour, we'll not only be visiting a number of remarkable sites; we'll also be engaging in some spirited discussions with our scholar, a leading Maya researcher.—Clay Patton, Crow Canyon Director of Cultural Explorations
Cortez, Colo. (PRWEB) June 27, 2013
Maya civilization began as early as 1500 B.C. and reached its pinnacle during the seventh and eighth centuries A.D. Throughout the jungles of Belize and Guatemala, the story of the Maya is told in the ruins of grand cities and mysterious glyphs etched into stone.
This year, the Crow Canyon Archaeological Center is offering a new educational tour for archaeology enthusiasts—"The Ancient Maya of Belize and Guatemala." With scholar Dr. Christopher Powell, travelers will visit iconic and seldom-seen deep-jungle ruins to explore the cultural, intellectual and scientific achievements of the remarkable Maya people whose descendants still live in Central America and southern Mexico today. Dr. Powell will present his revolutionary theories during visits to the sites of Cahal Pech, Tikal, Uaxactun, Tayasal, El Ceibal, Yaxha, Caracol and Altun Ha.
The trip will run December 6–15, 2013. To sign up for the trip or to get more information, call 1-800-422-8975, ext. 136 or 160; e-mail travel(at)crowcanyon(dot)org; or visit crowcanyon.org/travel.
About the Crow Canyon Archaeological Center
The not-for-profit Crow Canyon Archaeological Center, located near Cortez, Colo., is celebrating its thirtieth anniversary conducting long-term, multidisciplinary research into the ancestral Pueblo Indians of the southwestern United States; providing experiential education programs for adults, teens, and children; and offering cultural travel programs for lifelong learners.