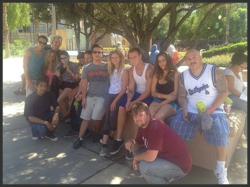 An active alumni program is a powerful tool in a relapse prevention plan for recovering addicts and alcoholics.
Reseda, CA (PRWEB) June 28, 2013
The Alumni Group of Reseda's The Discovery House quickly made plans to head to Magic Mountain on June 22th. But the magic here is more than just a place. It is the bond that is formed between those who are in the recovery phase of drug or alcohol addiction.
The Discovery House is a residential treatment center for people with addiction to drugs and alcohol. There are several steps involved in a comprehensive treatment program, and one of the key elements is to develop a specific plan to help them avoid relapsing back into drug and alcohol use after discharge from the residential treatment phase.
Without a relapse prevention plan, recovering addicts and alcoholics aren't always able to avoid situations that may put them at risk. They may find it hard to step away from temptation, and fall back into substance abuse when confronted with stressful situations. They are doing well in the treatment environment, but may suddenly feel alone when they are discharged, especially if they don't already have a family or other support network in place. This is one reason that the Alumni Group at The Discovery House is so important.
An active alumni program is a powerful tool in a relapse prevention plan for recovering addicts and alcoholics, and the alumni group at The Discovery House has already been proven to be and strong source of mutual support and accountability for its members.
The Discovery House Alumni Group is made up of anyone who has completed treatment from one of The Discovery House programs. Many in the group got to know each other during their residential treatment, and wanted to continue this active support, interaction and friendship after leaving the center.
For those in recovery a support system allows individuals to be surrounded by those who understand where they have been, and where they so desperately want to stay: free from drugs and alcohol. Sobriety is the word that each of the members are committing to for life, one day at a time.
The Discovery House Alumni Group expedition to Magic Mountain gave everyone a chance to blow off steam, take on the brand new Full Throttle (the tallest and fastest looping roller coaster in the world!), knock back some burgers and enjoy a full day of fellowship. Talk about contented exhaustion!
Though supported and hosted by The Discovery House, the planning and execution of the alumni group meetings and activities is run by the members themselves. The Alumni Group holds regular meetings, and is currently in the process of planning their next quarterly activity.
Members become mentors to the newcomers joining the group. This is another important aspect of recovery, helping others. During the years of addiction and alcoholism, many people became isolated and ostracized. Being a part of an alumni group gives each member a chance to share what they have learned along the way, and in turn learn from others. That's definitely part of the magic of The Discovery House Alumni Group.
About The Discovery House:
The Discovery House is a full continuum alcohol and drug rehab center in Los Angeles that focuses on treating the whole person, not just the addiction. Licensed by the state of California and JACCO accredited, The Discovery House provides the highest quality of care to those who enter their program.