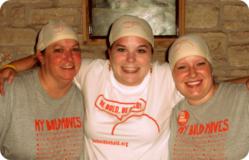 On October 18, who will you go bald for?
Boston, MA (PRWEB) June 27, 2013
On October 18th 2013, Be Bold, Be Bald! dares to ask Americans, "Who will you go bald for?" The fifth annual event, taking place on October 18th encourages people from all over the country to "go bald," sporting a bald cap in a show of solidarity for those who don't have a choice in losing their hair. Similar to a bike ride or road race, participants will encourage friends and family to sponsor them to go bald. To date, the event has raise more than $600,000 for more than 40 organizations, with approximately 10,000 participants across the United States.
Cancer organizations participating in the event range from small local organizations to such national brands as the Dana Farber Cancer Institute, Livestrong, Prostate Cancer Foundation, the Leukemia and Lymphoma Society and Susan Love Research Foundation. Past beneficiaries have received one hundred percent of the funds raised in their name and all participating organizations are provided with a variety of offline and online marketing tools to promote the event to their communities. Organizations interested in becoming Be Bold, Be Bald! beneficiaries are encouraged to apply online via the website through August 31st.
Be Bold, Be Bald! was founded in honor of the late Mike Connell, co-founder and former Creative Principal of Boston-based advertising agency Small Army, in 2009 by friend and business partner, Jeff Freedman. Mike lost his third battle with cancer after a heroic two-year fight in 2007, leaving behind a wife and three children.
"October may be breast cancer awareness month, but organizations for all types of cancer work hard every day to help battle this terrible disease," says Jeff Freedman, Creator of Be Bold, Be Bald! and CEO of Small Army for a Cause. "Be Bold, Be Bald! enables cancer organizations of all types and sizes to join together in the fight and honor those who face it head on."
Participant registration for Be Bold, Be Bald! is open at http://beboldbebald.org. A minimum $10 registration fee is suggested to receive a complete participation kit including a bald cap, poster and other fundraising materials. All registered participants receive access to a full range of fundraising tools, including a personalized web page to solicit and accept donations. Individuals can participate on their own; however, the event has been especially popular with student, business and organization teams. A "Bald Shop" on the website enables participants to order bald caps, t-shirts and other bald accessories as needed to support the one day event.
Be Bold, Be Bald! is managed by Small Army for a Cause, a 501c3 organization committed to helping raise awareness and funds for medical-related causes. For more information please visit the Be Bold, Be Bald! website and watch our compelling video here.