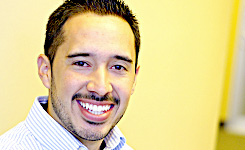 Giovanni's outstanding customer service and law firm experience is a welcome addition to our staff of paralegals. Being fluent in Spanish, Giovanni is able to connect with more clients and get our Spanish speaking clients the help they need
San Diego, CA (PRWEB) June 26, 2013
San Diego Law Firm, 2012 Torch Award Finalist for Marketplace Ethics, is pleased to announce the hiring of Giovanni A. Correa. Giovanni is a Paralegal and a second year student at Thomas Jefferson School of Law. He brings with him many years experience and customer service from another firm in San Diego.
San Diego Law Firm is a team of approachable, honest, dedicated lawyers and paralegals. Giovanni joins the intake department in an effort to maintain the high level client service that San Diego Law Firm is known for.
"Giovanni's outstanding customer service and law firm experience is a welcome addition to our staff of paralegals. Being fluent in Spanish, Giovanni is able to connect with more clients and get our Spanish speaking clients the help they need," says Marketing Manager, Erin Vejar.
Giovanni is a graduate of San Diego State University with a BA in Economics. He is currently attending Thomas Jefferson School of Law and hopes to graduate in the spring of 2015. Before coming to San Diego Law Firm, Giovanni worked at a consumer bankruptcy law firm in San Diego, where he helped prepare and file bankruptcy cases.
About San Diego Law Firm:
Situated in the North Park neighborhood of San Diego, San Diego Law Firm is known in the business world for its superior ethics, as appreciated by the Better Business Bureau. San Diego Law Firm specializes in legal services that ensure their clients are protected through all of life's unpredictable turns, such as bankruptcy, business law, divorce, custody and support, accidents, injuries, disputes and lawsuits, real estate law, trusts, probate and wills. San Diego Law Firm offers fixed fees to all of the firm's clients, for any service. To get more information regarding San Diego Law Firm's services, visit http://www.sandiegolawfirm.com or find the company on Facebook, Twitter and YouTube, and engage with San Diego Law Firm experts via LinkedIn and Google+.