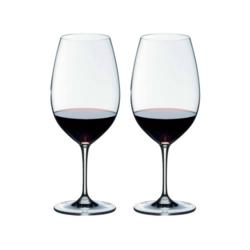 Austin, TX (PRWEB) June 27, 2013
WineCoolerDirect.com recently began offering new lines of Schott Zwiesel and Riedel wine stemware. This stemware offers insight how new designs and technologies are being applied to the wine tasting experience. Schott Zwiesel and Riedel are both known for offering wine stemware designed to enhance the taste of each grape varietal while appealing to a wide audience ranging from casual wine drinkers to active wine enthusiasts.
The highlight of the new Schott Zwiesel stemware collection, known as Tritan, is the new Schott Zwiesel Tritan Technology. This new technique creates break and etch resistant wine glasses. This stemware is not only dishwasher safe, but will maintain its original brilliance and clarity for years. Each piece of Schott Zwiesel stemware is made from lead-free crystal and special additives, including titanium, during the one-of-kind tempering process.
The latest line of Riedel Vinum stemware found at WineCoolerDirect.com goes in the other direction. The lead crystal stemware is engineered to be both brilliant and clear. This is to ensure wine enthusiasts are able to enjoy the full experience of color and taste that is unique to every wine. The Riedel stemware collection is varietal specific.
Kari Hall, Director of Business Development, stated, "We couldn't be happier to offer the new Schott Zwiesel and Riedel lines of stemware through our ecommerce store. Both lines highlight the variety of unique approaches each stemware designer takes when crafting their final product. The Schott Zwiesel line introduces a unique, new technology for enhance stemware durability whereas the Riedel Vinum line emphasizes the benefits of varietal specific designs.
The new lines of stemware can both be found at WineCoolerDirect.com. WineCoolerDirect.com is part of the ever-growing Living Direct family which is celebrating its 13 year anniversary by releasing a variety of new, high quality products across the family of websites.
Kari Hall went on to note, "One of the joys of stemware is that like the wine it holds, each line offers something unique. The wine tasting experience is reliant on the stemware to ensure the color, texture, smell, and flavor of every wine is truly appreciated and enjoyed."
WineCoolerDirect.com is part of the LivingDirect.com family. Find out more about the latest lines of stemware by visiting the website or getting the latest news at their blog. You can also connect with them on Facebook, Twitter, and YouTube.