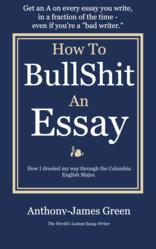 Students need to write their essays backwards for better clarity and purpose - this is the manual to teach them how.
Los Angeles, CA (PRWEB) June 26, 2013
Writing clear, well-supported papers is an ability that eludes millions of students. How to Bullsh*t an Essay, a new book by Anthony-James Green, provides a quick, step-by-step manual showing students precisely how to structure and write their essays, regardless of their writing ability.
Students and parents interested in learning more can view the book's Amazon page using the following URL:
http://www.amazon.com/How-Bullshit-Essay-ebook/dp/B00DIH1CPO/ref=sr_1_2?ie=UTF8&qid=1372199965&sr=8-2&keywords=how+to+bullshit+an+essay
Green, a well-known SAT tutor and Columbia English Major, released the book to help students enhance their GPAs and handle difficult coursework using a system he developed over years at one of the nation's most difficult English programs.
"The ability to write clear, well-structured, well-supported essays is essential for every student, regardless of what he or she is studying," says Green of his new book. "The title is tongue-in-cheek; the book isn't about bullsh*tting in the traditional sense - instead, it teaches students to use efficient techniques and a repeatable system to write better papers in far less time."
The book's premise is simple: most students write their essays from front to back, which is precisely what they shouldn't be doing. Instead, the book teaches students to build the frame of their essays first, starting with their evidence, and then "reverse-engineering" their thesis, topic sentences, and structures from there.
"When most students say that they're "bad writers," what they really mean is that they're INEFFICIENT writers," says Green. "They don't have the god-given ability to simply spew out 20 pages of writing from front to back with no planning...but no one does. This book teaches students that good writing isn't about PROSE - it's about structure and clarity. Any student can get As on his papers if he just focuses on organizing them effectively. Once students learn how to write an essay properly, they'll never worry about the process again."
The book is targeted at two types of students: those who think that they're bad writers, and those who want to save time on their coursework. For the so-called "bad writers," the book teaches them to focus on a mathematical system that spawns flawless essays with well-supported statements. For the students looking to save time, the book teaches readers how to drastically cut down on the inefficiencies of the regular writing process.
Green is uniquely qualified to write the book; he's tutored over 330 students one-on-one in his SAT career, helping nearly all of them to improve their writing skills. Furthermore, he started his tutoring business during his time at Columbia University, where he had to juggle the strenuous demands of his coursework with the equally strenuous demands of running his tutoring business.
"There's a whole lot more to life than classwork," says Green of his motivation for writing the book. "Everyone has his or her unique passion, and not everyone is passionate about writing. For the countless millions of students out there who don't love writing, but have to anyway, this manual will teach them how to express their ideas clearly and fearlessly to their teachers in less time, so that they can focus on what they love. Even for students who do love writing, and who already have the talent, this book will teach them how to save time, organize their ideas more effectively, and spend more time on the projects they truly care about."
How to Bullsh*t an Essay is one of many educational tools put forth by Green over the course of his career. Green is the creator of Vivid Vocab, a free, online tool that students can use to improve their SAT vocabulary using mnemonic devices and interactive experiences. Green is also the creator of the Teach Yourself the SAT system, an online program which teaches to improve their SAT scores by over 380 points on average. He's also in the process of creating a free, interactive software to teach people how to start and improve their businesses, as well as a book on the development of one's true area of expertise.
Currently, the book is only available on the Amazon Kindle. The book will be released in paperback, and across multiple online stores, later in the month. In the meanwhile, prospective readers can learn more by searching "How to Bullsh*t an Essay" on Amazon.com.
Green currently lives in Los Angeles, CA, where he splits his time between writing, teaching, and developing his newest software programs. He can be contacted by visiting his personal tutoring website at http://www.NewYorksBestSATtutor.com.
###