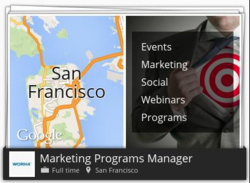 Each Job Card is automatically generated from pre-existing text-based job descriptions. This feature saves recruiters time and money that might be spent having custom visuals made for each job.
San Francisco, CA (PRWEB) June 26, 2013
Today, Work4, the #1 Facebook Recruiting Solution, becomes the first provider of social recruiting solutions to re-imagine job descriptions by integrating visual job posts into its all-in-one suite of recruiting solutions for Facebook and mobile. Called "Job Cards," this revolutionary new offering allows companies to graphically represent job descriptions in order to better attract candidates' attention on social networks while making the job's key information easy to read and share from users' social network feeds.
As social media evolves, the medium becomes increasingly visual, from the rapid rise of image-dominated platforms like Instagram and Pinterest to the changes Facebook, Twitter, LinkedIn and other platforms are making to their user interfaces in order to better feature visual content. Images are easier for users to consume and share as they scan their newsfeeds for updates, and they are scalable across desktop and mobile websites. Recent research suggests that images on Facebook, for example, receive 120% more engagement than plain text updates and 84% more link clicks. Yet, until now, this medium remains largely untapped by the Human Resources industry for the purposes of recruitment.
"The way we consume information has changed, so job descriptions must change as well," said Work4 Director of Product Matt Brown. "Job Cards present the first real opportunity for recruiters to connect with their candidates in a unique and engaging way, while communicating all of the salient points that candidates might otherwise skim or skip in a traditional, long text-based job description."
What makes Job Cards even more unique is their ease of implementation. Based on a standard template that includes a map, basic job details, and a word-cloud of key words from the job description, each Job Card is automatically generated from pre-existing text-based job descriptions. This feature saves recruiters time and money that might be spent having custom visuals made for each job.
Job Cards integrate with Work4's recently released recruiter productivity tool Social Job Sharing Recruiter, so Job Cards can be automatically distributed to a company and individual recruiter's Facebook networks. In the coming months, Work4 will expand this technology to include other social networks.
Job Cards will change the social recruitment playing field by giving recruiters the ability to engage candidates like never before, and in ways that will become critical as today's social media users become used to communicating through images.
"With Job Cards," said Brown, "we're helping companies truly speak to candidates by completely changing the 'language' of social recruiting."
About Work4
Work4 powers social recruiting by making everyone a recruiter and everyone a candidate. 
We help thousands of companies, including many of the Fortune 500, find, engage, and hire top talent with our all-in-one recruiting solution for Facebook. Work4 allows employers to reach candidates through a Facebook Career Site and on mobile devices, take advantage social networks to drive employee referrals, and target Facebook's 1 billion users with intelligent recruiting ads. Work4 brings cost-effective, efficient sourcing and hiring to the world's top companies by leveraging the reach and scope of the world's largest and most powerful social network. 
Established in 2010 and backed by top tier investors such as Matrix Partners and Yuri Milner, Work4 has offices in San Francisco and Paris. For more information, please visit our website (http://www.work4labs.com), Facebook Page (http://www.facebook.com/work4labs), or Twitter account (@work4labs).