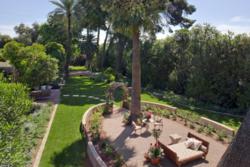 "It is an honor to have been selected by HGTV Front Door"Kristin Austin-Jacob;Home Designer
Phoenix, Arizona (PRWEB) June 25, 2013
Luxury Villa in Phoenix Named One of The Coolest Homes in America
A unique home in Phoenix, Arizona has recently been named the 5th coolest home in America by HGTV Front Door. HGTV's Front Door is one of America's leading online destinations for access to celebrity homes and unique real estate. The top ten poll was determined by Front Door's Facebook fans and Editor's reviews.
Il Segreto, which means "The Secret" in Italian, has been called a "European Country Estate in the Desert" due to its intricate outdoor living spaces, and authentic architecture. The Phoenix residence offers four master suites, each sporting a luxury bathroom, and their own private patio.
Villa Il Segreto was built in 1935 as the original private residence for prominent Architect Robert T. Evans, and over the years many prominent people have visited this magnificent estate including politicians, socialites and Hollywood stars. Recently, respected designer Kristin Austin-Jacob updated this luxury private compound, and is also the home's third owner since it was built.
Austin-Jacob, the home designer says, " I am delighted that the home has made number 5 on the Top Ten List. It was a fun project to work on, and it is nice that the editors and Facebook fans of HGTV Front Door acknowledged the home".
Other destinations which ranked in the poll included a Malibu Home with Multimillion-Dollar Car Museum, A Disney Fanatic's Dream Home and beating them all to the number one spot was Little Bokelia Island; a private Island paradise off the coast of Florida.
With its calm and enchanting appeal, it is no wonder that Phoenix Arizona's Villa Il Segreto made it on to this top ten list of America's coolest properties.
To see the top ten coolest homes in America visit HGTV Front Door Here