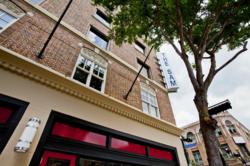 Guests will be quite pleased with the changes and preservations at The Sam.
Houston, TX (PRWEB) June 26, 2013
The historic Sam Houston Hotel has returned to Downtown Houston. The Alden Houston – located at 1117 Prairie Street – recently finished renovations and reopened using its former name. This change emphasizes the historic nature of the property—which is on the National Register of Historic Places—and celebrates the contemporary luxury of the property. As such, the hotel is also known as "The Sam."
To celebrate its new-again name and makeover, The Sam is offering 20% off the published rate, plus a choice of:

Complimentary overnight valet parking
Breakfast for two in *17
$25 credit in The Sam Bar
To make reservations, click here to book online, use code REDISCOVER through the website, or to reserve over the phone call 855-212-6780.
In addition to the new name, the hotel made sweeping renovations to guestrooms, meeting and event spaces, public spaces, and touch-ups to the award-winning onsite restaurant, *17, among other improvements to onsite and in-room amenities.
New Guestroom Amenities at The Sam:

In-room Wi-Fi
Keurig® coffee makers
Russian blue granite-walled bathrooms
Sleek glass showers
40" LED flat-screen televisions
Well-lit work desks
Herman Miller ergonomic chairs
Visitors can still expect the same great dining experience at *17 Restaurant, serving market-driven, modern American favorites with hand-crafted cocktails and local beers.
Events and meetings at the hotel remain remarkable. The Sam has 7,000 square feet of meeting and event space for memorable occasions like weddings and corporate functions. The Veranda, a favorite Downtown Houston event venue, offers spectacular views of the cityscape from a climate-controlled rooftop, accommodating up to 215 guests.
"Guests will be quite pleased with the changes and preservations at The Sam," said Nick Massad III, General Manager of the property. "Everything was given significant consideration and we are thrilled to again bring the historic Sam Houston Hotel to this city."
For more information, please visit TheSamHoustonHotel.com.
About The Sam Houston Hotel
The historic Sam Houston Hotel, known otherwise as "The Sam," is in Downtown Houston and is regarded for its five-star hospitality and world-renowned service. The 100 deluxe rooms and suites are designed with modern amenities and state-of-the-art technology. The boutique hotel unveiled renovations in 2013, with upgrades to guestrooms, event spaces, and more. Located within blocks of many Fortune 500 companies, the historic legal district, and a variety of sports, theatre, and entertainment locations, The Sam stands above all else as Houston's must-experience hotel.