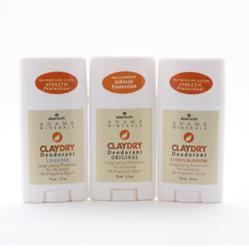 San Francisco, CA (PRWEB) June 28, 2013
Following numerous successful product debuts throughout the United States, California-based Zion Health has announced the arrival of ClayDry, an all-natural deodorant, at Whole Foods Health Food Store in Santa Monica located on 500 Wilshire Blvd. in Santa Monica, CA.
Clay Dry Natural Deodorants are formulated with a high grade from of Bentonite Detox Clay called Calcium Montmorillonite. This unique clay contains more than 57 trace minerals that are well known for its nutrient rich content.
Instead of aluminum compounds, ClayDry's base is formulated from calcium montmorillonite clay, also known as Kanwa Minerals, a nutrient-rich clay that is well known for its absorbent properties. According to the book Toxic Overload written by Dr. Paula Baillie Hamilton-M.D., PhD, "Aluminum compounds – particularly aluminum chlorohydrate – are easily absorbed through the skin and have, in the only reported trial to date, already been linked with higher risks of Alzheimer's." ClayDry answers these concerns by offering an alternative to aluminum based deodorants with additional ingredients of essential oils such as Citrus Blossom, White Pine, and Lavender.
Zion Health provides its consumers with pure skin and body care products that are vegan, without parabens or aluminum and formulated using certified organic ingredients whenever possible. Zion products are now available at Whole Foods Health Food Store in Santa Monica and health markets and co-ops throughout the U.S. and Canada. For more information on Zion Health products, visit http://www.zionhealth.com.