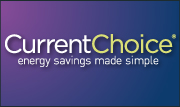 Shopping for electricity can be extremely cumbersome and confusing, so we wanted to create a simple way to truly see how different providers' plans would affect Texas consumers' electric bills. - Alan Lehmann, President and Co-founder
Austin, TX (PRWEB) June 26, 2013
CurrentChoice®, an online marketplace to compare rates and offerings and switch electricity providers in deregulated markets, launched its services today in Texas. Site visitors can compare electricity provider rates and personalize their potential savings with the CurrentChoice proprietary Bill-to-Bill Comparison Tool. CurrentChoice customers could save up to 17% on their electric bill, up to an estimated $300 in yearly savings.
CurrentChoice offers an easy to use Bill-to-Bill Comparison Tool that instantly retrieves household energy usage from Smart Meter Texas and shows personalized savings comparisons of all electricity provider plans offered. If a plan charges a fee for low usage, the CurrentChoice Bill-to-Bill Comparison Tool provides an estimate on how many times the fee would be charged over the next 12 months based on previous usage data.
"Shopping for electricity can be extremely cumbersome and confusing, so we wanted to create a simple way to truly see how different providers' plans would affect Texas consumers' electric bills," said Alan Lehmann, President and Co-founder. "At CurrentChoice.com you will see all the fees and charges associated with particular plans up front, that way you won't be surprised later when they get your bill. We only show bundled rates and our Bill-to-Bill Comparison Tool automatically lets you know if you need to pay a low use fee and how much it will be."
CurrentChoice is currently available for customers in the following utility regions:

AEP Central: Corpus Christi, Laredo, McAllen, San Benito and Victoria.
AEP North: Abilene, Alpine, San Angelo and Vernon.
CenterPoint: Angleton, Alvin, Cypress, Galveston, Houston, Pasadena and Richmond.
Oncor: Addison, Corsicana, Chandler, Dallas, Denison, Denton, Diboll, Fort Worth, Midland, Odessa, Palestine, Paris, Plano, Tyler and Wichita Falls
Texas NMPC: Angleton, Brazoria, West Columbia, Sweeny,Alvin,Friendswood, Dickinson, League City, La Marque and Texas City. Detroit, Bogata, Emory, Whitewright, Leonard, Farmersville, Pilot Point, Princeton, Lewisville, Nocona, Petrolia, Olney, Bryson, Strawn, Glen Rose, Hico, Hamilton, Meridian, Clifton, Whitney, Valley Mills and Gatesville.
"When considering which markets to launch in, we take the time to really make sure we can make a savings impact," said Doug Luckerman, Co-founder. "When we looked into Texas, we saw over 3.8 million households in competitive electric markets that have not switched from their affiliated electric companies. If these households are currently paying at least the average Texas price for electricity and they switched to the lowest 12 month fixed rate currently offered on CurrentChoice.com, they would collectively save $63 million monthly or $755 million annually. Now, the question is, what will Texans do with all that extra cash?!"
To generate awareness of its services in Texas, CurrentChoice has launched the Chill Out and Letus Pay Your Bills Giveaway:
New visitors are encouraged to enter for a chance to win their July and August electric bills paid for by CurrentChoice
To enter, site users need to create an account and use the Bill-to-Bill Comparison Tool to personalize their savings by either utilizing their Smart Meter Texas data or entering their electric usage manually
Contest will run June 25, 2013- August 31, 2013
No purchase necessary
For more information on CurrentChoice and to sign-up for the Chill Out and Let us Pay Your BillsGiveaway, please visit currentchoice.com.
About CurrentChoice®
CurrentChoice is an online marketplace that allows cost-conscious households to compare electricity providers' offerings and prices in deregulated markets in the United States. Founded in 2010, CurrentChoice offers a patent-pending Bill-to-Bill comparison tool that makes it easy for customers to find the best deal they can trust for electricity. The online tool instantly pulls usage data from an electric utility to show a consumer how different plans will impact their electricity bills, allowing customers to make a true bill-to-bill comparison and save up to 17% in a few simple steps. CurrentChoice provides the public trusted, unbiased information to make a confident choice to save money.