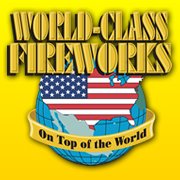 Our new Folds of Honor Firework is the perfect addition to anyone's Fourth of July celebration
Andover, KS (PRWEB) June 25, 2013
Wholesale Fireworks has created a new, 500-gram, patriotic firework called the "Folds of Honor Firework." Designed and developed by Wholesale Fireworks, the limited edition firework displays brilliant blast of red, white and blue in an array of designs and will be sold to benefit the Folds of Honor Foundation (FOHF). FOHF provides educational scholarships to the children and spouses of military service men and women killed or disabled while serving our great nation. As of January 2012, more than one million dependents have been affected by the wars in Iraq and Afghanistan. Of these, 85 percent do not qualify for federal scholarship assistance.
"Our new Folds of Honor Firework is the perfect addition to anyone's Fourth of July celebration. What better way to celebrate the 4th by getting the family together to enjoy the fireworks and give back to our nation's bravest?" - Larry Hale, Manager, Wholesale Fireworks.
Over Memorial Day weekend, Wholesale Fireworks presented its first FOHF recipient with a scholarship at the Folds of Honor Patriot Cup Golf Tournament in Tulsa, Oklahoma. PGA and LPGA champions and celebrity golfers attend the Patriot Cup each year.
"We're thrilled to have Wholesale Fireworks on board as a partner," said Major Dan Rooney, founder of Folds of Honor Foundation. "By purchasing Folds of Honor fireworks and celebrating our country's Independence Day, we can simultaneously celebrate the military men and women that make our freedom possible."
For a list of all Wholesale Fireworks locations and their hours of operation, please visit wholesalefireworks.biz.
About Wholesale Fireworks:
Wholesale Fireworks operates out of Andover, Kansas and is America's premier wholesale firework store. Wholesale Fireworks offers customers The VIP Club that is completely free and carries no obligation. No login or passwords required. Sign up for Wholesale Fireworks VIP Coupons and offers.
Website: http://www.wholesalefireworks.biz