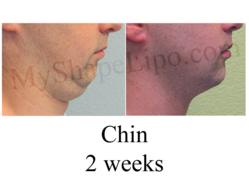 It was incredible that I could loose my saddlebags and be back to work all in the same day.
Las Vegas, NV (PRWEB) June 27, 2013
Tiffany Rasmussen of Las Vegas had chin liposuction at MyShape Lipo on her lunch break and returned to work that same afternoon. Tiffany is not the only one to do this; it seems to be more and more common as the procedure gets easier to recover from. Liposuction can now safely be completed in an office setting in about an hour in many cases.
MyShape Lipo offers minimally invasive liposuction while the patient is awake under only local anesthesia. So only the area that is being treated will be numbed, much like when you go to the dentist. The micro instruments used for this procedure are much less traumatic to the surrounding tissues which leads to less bleeding, less bruising and a quicker recovery.
"I can't believe how easy it was," says Tiffany. "I was in and out of their office in a little over an hour and then back to work. I didn't even have to take the day off!"
Trevor Schmidt PA-C, the Liposuction Specialist at MyShape Lipo has performed over 15,000 liposuction procedures and has continued to improve his technique to make it easier for patients. "I know it costs money to be out of work, so I do my best to get people back to their normal life as quick as possible," says Schmidt.
Brandy Lawrence of Henderson, NV also went back to work in the same day after having liposuction to her outer thighs. As a receptionist, she had no problem returning to her job and performing all of her tasks the same day of her procedure.
"It was incredible that I could loose my saddlebags and be back to work all in the same day," says Brandy. "I wasn't even sore until later that night since I was still numb from the procedure."
These two are definitely impressive, but far from an anomaly. MyShape Lipo has kept statistics on their patients and found that 41.2% of patients are able to return to work the next day and 82.3% of patient return to work by the third day following their liposuction procedure.
"We are focused on making the entire experience with MyShape Lipo as easy as possible," claims Schmidt. "From the first call, our patient concierge will help with every detail from arranging travel and hotels to educating and preparing for patient recovery. These are the perks of dealing with a specialized facility like ours."
MyShape Lipo is a liposuction specialty clinic located in the Las Vegas area. Patients fly in from around the world for their specialty services, affordable prices and industry leading customer service. They offer complimentary consultations in person or by phone, call 818-571-6311 to discuss options.