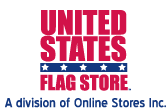 New Stanton, PA (PRWEB) June 27, 2013
United States Flag Store, the popular online supplier of quality American flags, flagpoles and accessories, has announced significant savings and promotional free shipping deals for the upcoming 4th of July holiday. These special offers are good on thousands of items in United States Flag Store's vast inventory of USA flags, banners, bunting and more. This comes as good news to millions of people throughout the country seeking to prepare for this year's Independence Day festivities with high quality patriotic decorations at low online prices.
Customers must enter a coupon code during the checkout process to utilize the additional savings unique to this event. Free shipping on purchases of $25 or more can be achieved by entering the code "July2013." An extra 10% off is being offered on all American flags and bunting with the coupon code "10offjuly."
United States Flag Store offers a large assortment of patriotic party supplies, including hats, centerpieces, plates, tablecloths, patriotic decorating kits and more, ideal for 4th of July celebrations of any size.
A division of Online Stores, Inc., United States Flag Store has emerged as the nation's largest online vendor of flag products. They are well sought after year around for their extensive selection of high quality tough US flags, indoor flagpole kits, specialty outdoor American flags, and more. In addition, they have received national praise for their variety of American made products, including popular Valley Forge flags, patriotic shirts, and stick flags made exclusively in their Pennsylvania factory.
The 4th of July is perhaps the most significant holiday of the summer, attracting tens of millions to celebrate in parties, picnics, parades, and more throughout the nation. United States Flag Store proudly offers the quality patriotic décor necessary to enhance any Independence Day celebration. They recommend customers visit their website today to take advantage of the special offers, peruse their selection of products, and prepare for this 4th of July's festivities and more.
About United States Flag
United States Flag Store is the largest flag, flagpoles and accessories vendor online. They stock an enormous amount of inventory, including over $3 million in flags of various fabrics, qualities and sizes and over $1 million in flagpoles, flag display cases, patriotic decoration and flag accessories. They manufacture their own stick flags, with over 6 million sold in 2010 alone. They have sold their products to over 1 million retail customers throughout the country, including government, military, veteran organizations and multiple Fortune 500 companies. They are BBB Accredited and assure excellent customer service. For more information, visit http://www.united-states-flag.com/ or follow them on Facebook, Twitter, Pinterest, Google +, or LinkedIn.