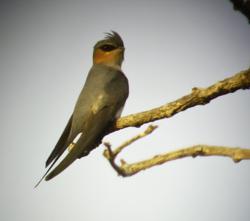 Newly-trained and talented local guides make this tour timely and a rare opportunity. -- Narca Moore-Craig
San Francisco, CA (PRWEB) June 29, 2013
Naturalist Journeys, a top nature and birding tour company, is proud to announce their upcoming Cambodia Nature and Birding tour, guided by professional ornithologist Narca Moore-Craig, January 6–16, 2014.
Moore-Craig spent last winter assisting efforts to train local guides as the country opens up for ecotourism. She is enthusiastic about bringing Naturalist Journeys' first eco-tour to Cambodia, saying, "Any mention of Cambodia conjures images of the magnificent, mysterious ruins of Angkor Wat. But beyond these stunning temples lies another Cambodia, wild and beautiful, and rarely encountered. A talented group of biologists has been in training to share their knowledge and the infrastructure for tourism in rural areas is improving all the time. It's a great time to plan nature and birding travel to Cambodia."
Moore-Craig emphasizes that Cambodia is considered to be the stronghold for a number of globally threatened mammals and birds, supporting possibly the only viable populations of White-shouldered Ibis and Red-headed Vulture. The community of large mammals and birds that can be found in the northern plains of Cambodia is unique, the particular combination found nowhere else on earth today, though the ecosystem there once extended through much of Indochina.
Moore-Craig continues, "Cambodia excels at meshing conservation with nature tourism, for the direct benefit of local communities – achieving possibly the most successful effort of this kind, anywhere in the world. Funds generated by ecotourism have enabled villages to dig wells for access to clean water, build schools, maintain roads and bridges, and build health clinics. In return, the villagers have become the guardians of some of the most critically endangered birds anywhere."
Naturalist Journeys birding and nature tour participants will visit the floating village of Prek Toal and its nearby canopy towers, erected for viewing the stork colony of Lake Tonle Sap, a Biosphere Reserve and the largest natural lake in Southeast Asia. Another highlight will be the Veal Krous "Vulture Restaurant." Villagers set out carrion for critically endangered vulture, providing hope for these birds' survival and in turn, much-needed tourist income.
An optional January 15-19 extension to the Mekong River and Seima will give Naturalist Journeys nature and birding tour participants an opportunity to see rare Irrawaddy Dolphins and experience a high diversity of species while birding.
Find full details of Naturalist Journeys' Cambodia's Angkor Wat, Nature & Birding Tour at: http://www.naturalistjourneys.com/jcalendar/jc_cambodia14.htm.
More about the January 6–16 Cambodia Nature and Birding tour:
This guided eleven-day small-group nature and birding tour begins and ends in Siem Reap, Cambodia and is limited to 10 participants.
More about tour guide Narca Moore-Craig:
Narca Moore-Craig has led natural history and birding tours to six continents for over twenty years, for clients including the Smithsonian Institution and the Harvard Museum of Comparative Zoology. A past president of Western Field Ornithologists, Narca conducted research on birds of the New Mexico¹s Gray Ranch, not far from her home in Portal, AZ. Her award-winning art has appeared in numerous field guides and books, including A Natural History of the Sonoran Desert and A Birder¹s Guide to Southeastern Arizona.
More about Naturalist Journeys:
Naturalist Journeys LLC, a top birding and nature tour company, offers specialty small group tours and travel worldwide, from the western U.S. to Alaska, Hawaii and Florida, Costa Rica, Panama, safaris in Africa and more. Naturalist Journey's guided nature and birding tours feature expert guides with decades of experience in bird-watching, travel photography and other forms of eco-tourism. Naturalist Journeys also offers hiking and adventure travel tours in many national parks and wildlife reserves, including the Galapagos, Antarctica and the Amazon.