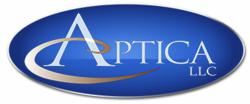 "Forensic scrutiny of a company's cyber activity has saved many a business from losing trade secrets, from public embarrassment and from losing months of productivity
Angola, IN (PRWEB) June 26, 2013
Jason Newburg, owner of Aptica LLC in Angola, Indiana, started his information technology support services company ten years ago, and just keeping his clients' computers up and running was his company's main focus. Since those early years there have been many changes in the world of business computing.
Aptica offers three packages of varying service levels that start with four hours of service time per month and go up to unlimited service with same day priority, and this expertise and reliability will continue to be the bedrock of the business. However, as the world continues to become more sophisticated in computer usage, add caution, vigilance, and healthy suspicion as a daily requirement for businesses of all sizes.
"Forensic scrutiny of a company's cyber activity has saved many a business from losing trade secrets, from public embarrassment and from losing months of productivity," asserts Jason Newburg, owner and lead forensic specialist at Aptica LLC. "There are State and Federal laws and very stringent guidelines that must be observed when information is being collected and analyzed. If you as an employer come to believe something or someone is amiss in your company and you start to investigate, you can be accused of tampering with evidence. It's best to bring in forensic investigators, hopefully people you already know and trust, since the legal aspects of such activities are ever-changing."
Privacy is a huge concern for companies as well as individuals. Case law states that anything that travels over a business network is the property of that business. The owners have the complete rights to that information. If, however, an employee brings in his own tablet or some other personal device that allows him to communicate with the network, then that information belongs to the employee. The policy that Aptica urges their clients to adopt is one that severely limits personal devices on a business network, keeping its use primarily for business assets. Usage policy, best practices and complete policy management are all part of a service package with Aptica LLC.
So what happens when an employee is dismissed or leaves on bad terms? Or what if the employee still works there but the owners suspect something is wrong? The Aptica forensic specialists will immediately caution owners and managers to not warn that the employee is under suspicion. There should be no psychological jump to any conclusions, nor does Aptica make any judgements: it's a process, an examination of a digital fingerprint that follows a well-defined protocol. There will be a full site analysis that includes all IP addresses with a focus on the suspicious employee's computer.
"Everything we analyze on a disk needs to be repeatable in a court of law," says Newburg, "and opposing counsel's analysis has to match it. There must be no doubt, so we have to be able to reproduce everything to be able to prove or disprove any violation of company trust. It's almost always an emotional situation." To stay on top of the law, Aptical LLC retains a law firm to keep them abreast of all changes and of any change in case law. After careful investigation, Aptica will give a complete report that addresses all the checkpoints in the accepted forensic guidelines.
Proprietary company information can make the difference between market dominance or a perpetual struggle to stay in an industry. Careful and consistent monitoring of company computers in a network is as essential as keeping the lights on in business today. Factor in the popularity of telecommuting and work done from a coffeehouse on the road, and the potential for network compromise expands globally. Aptica LLC can cover business security from design and installation to either reactive or proactive forensic investigation, providing reports for private action or for submission to a court of law if necessary.
About Aptica LLC
Aptica LLC is a full service information technology support service company that provides the full spectrum of help from evaluation and installation to 24/7 monitoring, active directory configuration and cyber forensics when needed. Aptica LLC is the 2013 recipient of the Angola Chamber of Commerce Excellence in Customer Service Award, and provides computer support services for businesses within the Indiana/Michigan/Ohio tri-state area.
Contact Information:
Jason Newburg, Owner
Aptica LLC
260-243-5100, ext 2001