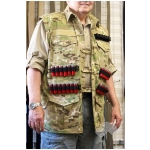 Phoenix, AZ (PRWEB) June 26, 2013
The Wilderness introduces its newest top of the line "Wilderness Hunting Vest" to their collection of high quality tactical equipment and tactical supplies. It is similar to the hunting shirt but this hunting vest is made for the summer. Retailing at $229.95, this is a must-have vest for any serious hunter.
There are several features and benefits to the hunting vest. This vest is made from 50% nylon and 50% cotton Crye Multicam fabric and has several 1 ½" loop Velcro panels which allow for elastic ammunition carriers. It also has 4" x 6" long panels on top as well as 2" x 7" long panels on the bottom of the vest. The vest has optional size extenders which attach to the front button allowing for great breathability. Each hunting vest has chest pockets with an inner organizer pocker that holds pens, cell phones and other small items. The Wilderness's hunting vest is made to order so can be tailored to each individual.
The benefits of the this new hunting vest include:

Lightweight – allowing for easy mobility
Made in America
Great breathability through optional size contenders
Ample storage
Impressive durability
Easy accessibility to ammunition
Made to order
The Wilderness realizes that hunters have a lot to do to get ready for a long day out in the woods or fields hunting, which is why they wanted to create a product that would help lighten the load. They also understand that hunters will be trudging through all sorts of terrain so carrying a light load is essential.
Along with this hunting vest, The Wilderness also offers other great options to help complete the full set of hunting gear to bring.
About Wilderness Tactical Products:
Wilderness Tactical Products, L.L.C. was founded in 1981 to fill the needs of people who demanded durable, high-quality equipment. Their products have been tested from the icy mountain peaks of South America to the blistering Sonoran desert for nearly 30 years and they have proven themselves time and again. Wilderness Tactical Products' branded products have consistently been favorites of serious outdoors people, mountain climbers, search and rescue, American Pistol Institute - 'Gunsite' personnel, as well as armed military, intelligence, police, instruction and civilian professionals around the world. For additional information please call 1-800-775-5650 or visit http://www.TheWilderness.com.
Media Contact:
Jason Jantzen
Phoenix Marketing Associates
602-282-0202