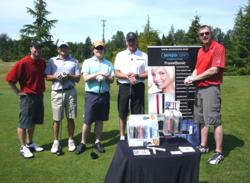 Never forget your toothbrush again!
Redmond, WA (PRWEB) June 27, 2013
The 3rd Annual Washington State Oral Health Foundation (WOHF) Golf Classic presented by AmericanWest Bank was held June 15th 2013 at the Redmond Ridge Golf Course. Pacific Northwest Dentist and supporters of the WOHF came together for a fun golf tournament to raise money for WOHF initiatives. WOHF's mission is to significantly improve oral health and prevent disease with education on oral health issues.
None of the golfers hit the hole in one to win the new car, but some of the skilled golfers who were able to keep their drive on hole one in the fairway and beyond the 230 yard Senzacare marker won a TravelSonic portable electric toothbrush. A few of the excited winners were Dr. Danny G. Warner, Dr. Edmond H. Kwan, Dr. Steve Kwan, Dr. John Adams, Dr. Mark Johnson, and Wendy Wilson. Senzacare donated 15% of sales with the promotional code WOHFGOLF to the foundation when checking out on amazon.com sold by Senzacare.
The Lowest Gross 1st Price winners were Dr. Danny Warner, Dr. Mark Johnson, Dr. Michael Warner, & Mr. Sonny Sixkiller. The Low Net 1st Prizewinners were Mr. John Huey, Mr. John Daller, Mr. Sheldon Sweeney, & Mr. Josh Whelar. The winner of the Closest to the Pin for the ladies was Ms. Linda Ribary. The winner of the Longest Drive for the Ladies was Ms. Kristi Feder. The Component Cup Winners were Dr. Steve Olson, Dr. Edmund Kwan, Dr. Steve Kwan & Dr. Robert Walker.
Most of the golfers said they will be back again next year for the fun day and to support WOHF.