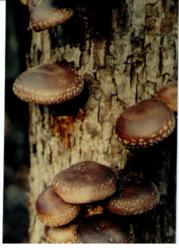 Shock it, pick your mushrooms, let the log "rest" with regular soaking in non-chlorinated water and grow shiitakes year-round for 3-5 years.
Perkins, OK (PRWEB) June 26, 2013
"We think of mushrooms springing up on trees or in the yard almost overnight," said Sandra Williams of Lost Creek Mushroom Farm. "But it doesn't happen that way. The mycelia, fine threads that digest the wood or devour microbes in the soil, have been growing for months before we see the mushrooms. Where nature takes 5-6 months to grow shiitakes, shiitake farmers have ways to shorten that time to two months or less – by growing indoors and 'shocking' the log with ice water."
Growing shiitakes at Lost Creek Mushroom Farm or in the house on real hardwood logs works the same way, Sandra explained. "We plant the mycelia inside the log. It grows for almost a year. It forms mushrooms when we "shock" it with ice water or when the fall arrives with cool nights and rain. The mushrooms come on and we harvest. Then the log rests for a couple of months while the mycelia digest more wood and wait for the next right combination of temperature and rain to start forming mushrooms. That's the fruiting cycle."
Growing naturally, the seasonal changes in temperature and moisture trigger the fruiting cycle and the mushrooms are gathered for food and medicine. Shiitakes are known worldwide for their nutritional and health benefits.
Lost Creek Mushroom Farm makes shiitake log kits that work according to the shiitake's natural cycles of digesting, fruiting, and resting. Sandra and her husband Doug Williams make logs kits that will pop out mushrooms through all seasons, with a crop about every two months, producing up to six crops a year for 3-5 years – even during the summer and winter months.
"We 'shock' the log," Doug explains. "That means soaking it in ice water for about 24 hours, or putting it in the fridge and keeping it cold, mimicking the rainy season. It tricks the log into fruiting."
The logs can live indoors like plants, as most normal air conditioning temperatures are within the range that shiitake mycelia like in order to grow inside the log. The mushroom logs can live outdoors in shade in their natural seasons.
Sandra said, "Outside under a shady spot in the spring and fall, the logs will grow more mushrooms and bigger mushrooms. Then if they come inside for the summer and winter, they'll keep right on growing."
Lost Creek Mushroom Farm kits contain a hardwood log ready to fruit, instructions, recipes and a full guarantee for logs 10" and larger. The log kits start at $18 for a 6" 'Shroomie. Lost Creek's 10" single log kit sells for $29.95. The Original Tray Kit is $54.95, featuring a 14" log with its own tray for soaking and fruiting. Prices include shipping and handling.
Kits with two logs will provide shiitakes every month instead of every two months. The Ma and Pa kit with two 10" logs sells for $49.95 and the Best Buy offers a $15 savings at $95 for two 14" Original Tray Kits shipped to the same address.
Online purchases can be made at http://www.shiitakemushroomlog.com. The number for phone orders and requests for free brochures is 1-800-792-0053. Kits are available at Amazon.com at slightly higher prices.
A portion of sales are donated to the Williams' Mushrooms in Ghana Project and to The Voice of the Mushroom Foundation, dedicated to promoting education about the health benefits of mushrooms and promoting mushroom production worldwide.