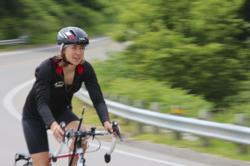 Sault (PRWEB) June 26, 2013
"Traveling across Ontario by bike is a little bit crazy and whole lot scary," says VandenBussche, "but it's nothing compared to the challenges 1/5 of Canadians face when dealing with a mental illness. One in five means there's a high likelihood that some of you, or people you really care about have or are suffering." Regular exercise can help alleviate that suffering, and can be a real, sustainable and affordable treatment for those suffering from depression and other mental health issues.
Studies have shown that aerobic activity that raises your heart rate for half an hour can have the same effect on your brain chemistry as an anti-depressant by releasing "feel-good" hormones. Having a goal such as a first race or better time gives the patient focus. Community based activity can help the patient make friends and increase their support network.
Jessica's goal with the cross- province ride is to bring together community groups, caregivers, fitness professionals and educators to get a dialogue going, and to raise funds for the Canadian Mental Health Association to help implement programs.
Her Journey begins in Thunder Bay on Friday, and she expects to make it to Gravel River the first night. She invites everyone toget involved in any number of ways. For ways to get involved, visit the ride website - StrongFreeHappy.ca.
Follow the ride on twitter : @strongfreehappy
Facebook: https://www.facebook.com/StrongFreeHappyAcrossCanada
Contact: Kelley McNamara strongfreehappy(at)gmail(dot)com