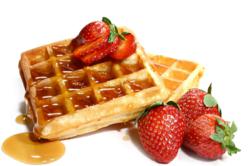 In 1911 General Electric revolutionized the world by creating the first electric waffle iron. In 2013 Flax Seasoning revolutionizes the waffle by making Mighty Maple Cinnamon.
Arlington, VA (PRWEB) June 29, 2013
As children, who didn't love one of Mom's great tasting weekend waffles hot off the waffle iron? But we never thought about where those lovely waffles came from while we were smothering them with maple syrup. Today, in celebration of Waffle Iron Day (June 29th), Flax Seasoning takes some time to explore the history of the waffle iron and pay homage to this great breakfast treat.
According to Wikipedia, the waffle iron originated in North Western Europe around the 14th century. Early waffle irons would cast images of religious symbols, coats of arms, and other emblems of significance. Over the course of time, the waffle iron continued to evolve and in 1869 the first American waffle iron was patented. In 1911, General Electric revolutionized the world by creating the first electric waffle iron which also included an embedded thermostat to help prevent overheating. Nowadays, it is not uncommon for many families to have a waffle iron in their kitchens equipped with thermostats and timing mechanisms to ensure the perfect waffles are created every time.
Flax Seasoning, a leading healthy spice blend company, created a spice blend called Mighty Maple Cinnamon as a great compliment for waffles. This all organic blend, containing flavorful maple sugar, Saigon cinnamon, nutmeg, cloves, and ginger is a great addition to waffle batter or can be sprinkled on top of waffles after they are cooked. This blend can also be used to flavor maple syrup, honey, or coconut oil to drizzle over top of waffles for extra flavor.
Here is a great waffle recipe from Flax Seasoning with a healthy twist.
Mighty Maple Waffles
Ingredients:
2 cups all-purpose flour (or whole wheat)
1 teaspoon salt
1 tablespoon Flax Seasoning Mighty Maple Cinnamon
1 tablespoon ground flax seeds
4 teaspoons baking powder
2 tablespoons honey
2 eggs
1 1/2 cups warm milk
1 1/3 cup coconut oil, melted
1 teaspoon vanilla extract
Preparation:
1. In a large bowl, mix together flour, salt, Mighty Maple Cinnamon, flax seeds, and baking powder. Set aside.
2. Preheat waffle iron to desired temperature.
3. In a separate bowl, beat the eggs. Stir in the milk, coconut oil, honey, and vanilla.
4. Pour the milk mixture into the flour mixture; beat until blended.
5. Ladle the batter into a preheated waffle iron sprayed with cooking spray.
6. Cook the waffles until golden and crisp.