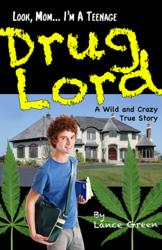 "It's the true story of 'Weeds' meets 'Ferris Buehler's Day Off'. But we've changed the names to protect the guilty"
Leann Garms, Build.Buzz.Launch. Media and Publishing
Dallas, TX (PRWEB) June 26, 2013
On the outside he was a normal teenager. He attended class. Did his homework. Hung out with his friends. But that was just a cover. Because in a new book, "Look, Mom…I'm a Teenage Drug Lord, http://www.teenagedruglord.com, readers can join Author Lance Green on non-stop, wild ride of all-night parties, high-speed police chases and Mexico drug deals gone horribly wrong - all while fooling friends and family as just a normal teenager.
And it's all true.
"Look Mom… I'm a Teenage Drug Lord", recently released by Dallas-based Media and Publishing firm Build.Buzz.Launch. (http://www.buildbuzzlaunch.com) is the incredible but true story of a teenage genius from wealthy suburbia who stumbles into running an illegal drug empire.
"Think of this book this way: the TV show Weeds meets the movie Ferris Buehler's Day Off," said Leann Garms, of Build.Buzz.Launch. Media and Publishing, who brought the book to market. "We have changed the names to protect the guilty, but this story is true."
"I really had no reason to sell drugs," said Lance, a pen name. "Coming from a wealthy family, living in a suburban "bubble", I didn't need the money," said the author. "I accidentally stumbled into it. I started smoking weed in high school and a friend of mine convinced me to sell small amounts of pot – it grew from there. "
"One reason I kept doing it, was there were no consequences," said Lance. "My parents were really "cool", if you want to call it that. I've been arrested 17 times… but when you come from a family that can afford attorneys, make your discretions go away, there were no consequences." At least not at first.
While a lot of this is humorous, there are some scary, life or death events revealed throughout the book.
"From the wild parties, smoking marijuana in the open garage of upper class suburbia, to running drugs in Mexico, dealing ecstasy and cocaine, my character changes throughout the book and my attitude changes as well," says Lance. "A world without consequences can only last so long."
And consequences he has suffered. According to the author, he has a felony charge for cocaine on his record that will dog him for the rest of his life. Even worse are the physical consequences – his pancreas is shot from all the drinking and drugging.
When asked why he wrote this book, and what outcome he hoped to achieve from it, Lance shared, "When I went before the judge to have my records sealed after doing everything the court asked, I was denied. So I decided if I was going to be penalized I might as well let the world know what really happens in wealthy suburban America. It's a story that should be told," he adds.
"Regardless of your actions, at the end of the day, you will be held accountable. And I wanted to let the world know what is really going on in wealthy, suburban high schools and neighborhoods.
"The person your rich son or daughter is buying drugs from is not the guy from the ghetto. It's probably your rich kid's rich friend - that you really like." Lance was always popular with the parents.
So how does Lance's story end? Today, the author is a successful businessman, working in a prestigious, high profile firm. Back then, he was a straight up Drug Lord.
Because he now enjoys legitimate, professional success, the author used a pen name and changed the names of the characters in the book. "I didn't want to be judged by my past, and I also wanted to protect the companies I work for," he said.
Remaining anonymous as the author presents some marketing challenges for Lance and his book. A book signing wearing a mask? Not really practical. For that reason, the majority of exposure will happen online, through Virtual Book Tours and on radio shows. "Look, Mom…I'm a Teenage Drug Lord" is currently available in paperback and digital form. (Kindle.) Claim your copy via Amazon: http://www.amazon.com/s/ref=nb_sb_noss?url=search-alias%3Daps&field-keywords=lANCE+GREEN+TEENAGE+DRUG+LORD
Want to hear more about Lance's adventures? Sign up for his weekly blog and a chance to win a free Kindle: http://teenagedruglord.com/category/Blog/
Lance's story is one both parents and teenagers should take to heart. Want to hear from the ex-drug lord himself? For media interviews - no public appearances - email or call Leann Garms via the contact information in this release. Only she knows Lance's current whereabouts.