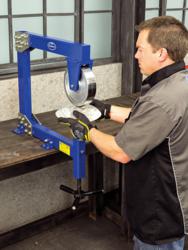 Eastwood's Bench-Top English Wheel is great for DIY Metal Shapers and Fabrication Shops
Pottstown, PA (PRWEB) June 26, 2013
The Eastwood Company has launched a new Bench-Top English Wheel – professional quality with a knock-down design! English Wheels have been staple tools of metal fabricators for years, but overall size and price constraints have often kept them out of reach of DIY-hobbyists and small shops. Eastwood's new Bench-Top English Wheel overcomes those issues. Eastwood's English Wheel offers a 20" throat and 18" internal height to make this unit one of the biggest bench-top English Wheels on the market. "When designing this English Wheel, we wanted to offer a professional quality tool that was within reach of DIY-metal shapers and small fabrication shops," said Mark Robidoux, Eastwood Product Manager. "Shipping a large item like an English Wheel can be costly, but the knockdown design we engineered into this English Wheel allows it to ship via Fed-Ex or UPS."
The Eastwood English Wheel's frame is fabricated like large bridge spans, with doubler plates and structural hardware, offering the most rigid frame in its class. Featuring a large 8" wheel and 5" radius anvil wheel that can be indexed in different positions, this tool offers unsurpassed forming ability. With X and Y axis adjustment on the large forming wheel, it allows even the most experienced fabricator the adjustability to set up the wheel to personal preference.
Eastwood markets unique tools and supplies for repair, restoration, and modification of cars, trucks, and motorcycles. Founded in 1978, Eastwood constantly strives to develop new products to serve the home automotive hobbyist, as well as individuals and organizations focused on the restoration and preservation of automobiles and motorcycles. Contact Nick Capinski – ncapinski(at)eastwood(dot)com or 610-705-5404.