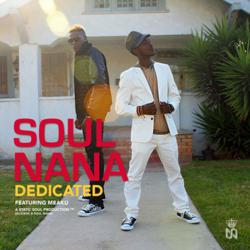 ...dedicated to enriching his heritage, passing on the integrity he's learned...
Los Angeles, CA (PRWEB) June 27, 2013
The release of his new album "Planet Afrika" is one of many vehicles immigrant hip hop artist Soul Nana is utilizing to set a shining example for his son.
As an adolescent, Hip Hop Artist/Producer Soul Nana watched his single mother struggle in America without a Green Card, college degree or welfare. She managed through sheer dedication to provide for her family. Soul, raised in America from age 3 to 13, was sent back to Ghana in his teen years, to live for 4 years. It was this clashing of cultures at such a young age that would mold him into the well-rounded international artist he is today. So naturally, when his son became defiant and unruly he knew he had to cross those cultural lines again. This time for the well-being of his own son.
Sending his American born son to Ghana to complete his adolescent education has been the hardest and best decision Soul could have made. Parenting itself is hard work and although styles have changed over the years the goal is the same. The focus being raising up a child to know discipline, respect, work ethic, and humility. Exposing his son to his Ghanaian roots has already changed his son's behavior immensely.
It's Soul's own cross cultural experiences that have played a huge role in influencing his upcoming album "Planet Afrika". His first official single "Dedicated" celebrates and recognizes women around the world. From his mom, Joyce Asiedu, who gave up everything to raise him into a strong man, to Trayvon Martin's mother, yet another of many women who've lost their sons before they could reach manhood. The single was also influenced by other resilient Ghanaians such as disabled bicyclist Emmanuel Ofosu Yeboah. Mr. Yeboah's dedication has brought international awareness to Ghana's disabled, which has inspired activists such as Oprah Winfrey to get involved in making a difference in Ghana. Simply put, it's a celebration of dedicated human beings.
Dedicated (feat. Meaku) - The Single By Soul Nana, BUY NOW!
Soul Nana, has produced and been featured on numerous projects over the years. Recent artists include Bishop Lamont (formerly of Dr. Dre's Aftermath Entertainment) and his songs "Africa", "So Cold", and "Skitzo". Soul wrote and produced for Nikki Grier (also a former writer signed to Dr Dre's publishing company) on songs "Downtown" (ft. Busta Rhymes), "Good Love" (ft. Ms Jade), and "Keeper" (ft. Mistah Fab). Most recently Soul produced a track with BET AWARDS 2013 Nominated Mugeez of R2Bees, featuring both Bishop Lamont and Nikki Grier.
"Planet Afrika" Soul Nana's debut album features Keith Robinson (Dream Girls), Nikki Grier, Tristate (Durag Dynasty), Vonyse, KEMET Speaks, and more. The album is an artistic journey from Africa to America back to Africa back to America, as seen through the eyes of an immigrant, influenced by the rhythms of the mother land, transformed by the beat of a new generation. Soul Nana is dedicated to enriching his heritage, passing on the integrity he's learned from his mother and translating it into every aspect of his life: his music, his family.