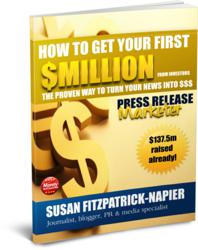 DMG has helped clients raise more than $137.5 million
Palo Alto, California (PRWEB) June 26, 2013
Digital Mantra Group, a leading public relations agency founded in 2001 in Palo Alto, has for the first time documented the successful strategies and tactics they have used over the past decade to help their clients get millions in funding.
The new eGuide, How to get your first Million from Investors with Press Release Marketer, documents the best of more than a decade running successful investor focused media campaigns in California, China, Singapore and Australia.
Digital Mantra Group has helped clients raise more than $137.5 million from venture capital firms and high-net worth investors from Silicon Valley, China and Australia.
Digital Mantra Group has worked with startups and big companies on their capital raising programs and for the first time has documented the success strategies any company can apply to get funding fast.
The core of Digital Mantra Group's offering is a process called Press Release Marketer which combines the power of content marketing, search marketing and social media to deliver the most cost effective and impactful marketing tool for raising capital - nationally and internationally.
"Press Release Marketer is a cost and time saver process where a company's entire marketing program can be generated from as little as 24 press or news releases a year," said CEO Susan Fitzpatrick-Napier.
"At Digital Mantra Group we believe in the "Write it once and share it a thousand times" approach. We leverage the right online and even off-line communication channels to get maximum reach to decision-makers for our clients."
The press release as a tool to communicate with journalists is now more than 100 years old but it has a new role, life and application in this content and information driven marketing environment.
And for the companies that say they don't have news, How to get your first Million eGuide shows you how to make your everyday news into valuable content that can influence, educate and convert investors fast.
The eGuide includes step-by-step instructions on how to easily run a Press Release Marketer program including media strategies for before, during and after investor meetings, communicating with potential investors, conferences and tradeshow investor tactics, and how to find and connect with the Top-10 media/journalists/bloggers trusted by your investors.
It also includes online press release generators specifically designed to reach investors making it easy to arrange your news, plus shows you how to write a killer press release in under 7 minutes, and checklists and more.
About Digital Mantra Group
Digital Mantra Group (DMG), founded in 2001 with offices in Palo Alto and Sydney, is a full service public relations and online content marketing agency for small to medium sized companies that are short on time, but want to grow fast, reduce time to revenue, attract investors, and shorten the sales cycle.
DMG brings specifically designed and proven solutions drawn from more than a decade of global PR experience with fast growing start-ups and Fortune 500 companies.
DMG works with companies across sectors including cleantech and renewable energy, biotech, technology and health.