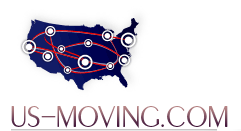 US-Moving.com does its best give the best service and help home owners with research to find the right moving company which matches their needs.
(PRWEB) June 29, 2013
US-Moving.com is a website designed to help people planning to move baggage and family across states get the information they need for a successful move. The website will help customers make the best choices in the professional moving companies they hire.
A long distance move can be complicated. It requires planning, coordination, patience and systematic execution to move homes across states. This is where professional help comes in handy. US-Moving.com has several long distance moving companies listed on their database and these movers have offices in various points all over the country so they can provide staff to coordinate the move across states.
Doing research while selecting long distance movers can help homeowners get experienced and efficient help in their move. The Better Business Bureau is extremely useful to find out details about the company under consideration and gives all the information required to evaluate the company and its reputation. Customers can easily find contact information for the BBB on the US-Moving.com website.
When selecting long distance movers, it is important to check if they have been in business for at least 5 years. It is always best to get estimates from at least 3-5 companies before deciding. With the estimate tool on US-Moving.com, it is simple and convenient to receive several estimates within minutes of completing the online form. Charges generally depend on the weight and the distance involved, as well as accessibility to the new and old locations.
US-Moving.com offers a variety of service options which will enable a smooth moving experience. They generally have moving kits which come in handy; and they will also take responsibility for transporting the customer's goods, along with loading and unloading at the new destination. Also, if additional moving supplies are needed, US-Moving.com makes it simple to find box and packing supply companies Long distance movers are also experienced at transferring vehicles across state lines. Customers can also find auto transport companies who use open or closed trailers, depending on the vehicle. This is a fast and convenient way to transfer a vehicle a long distance.
US-Moving.com does its best to give the best advice, service and help home owners with research to find the right moving company which matches their needs. All companies listed are pre screened and determined to be reliable, professional and reputable. In addition, http://www.US-Moving.com lists prior customer reviews so it is quick and easy for potential customers to review the comments of prior customers.