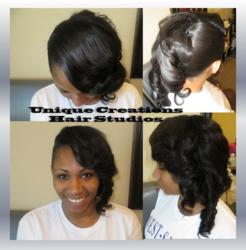 ...Our mission at Unique Creations is simple; we want to grow your hair one inch in 30 days...
Atlanta, GA (PRWEB) June 28, 2013
Natural Hair salon provides hair care solutions for Atlanta women with hair loss issues.
South Metro Atlanta's Natural Hair Salon Unique Creations Hair Studios has launched their "We Grow Your Hair" initiative to address the rising number of African American Women in Atlanta with hair loss issues. "Our mission at Unique Creations is simple; we want to grow your hair one inch in 30 days" stated Monique Deering Owner of Unique Creations.
The rising number in African American women reporting hair loss issues is stunning. Dermatologist Susan C. Taylor stated in a Huffington Post article, "I have gone from seeing five women with hair loss each week to seeing 25 or more." Women make up about 40 percent of Americans experiencing hair loss, according to data from the American Hair Loss Association, a California-based organization dedicated to educating and improving the lives of those affected by hair loss.
"Our stylist at Unique Creation Studios has helped over 700+ women recover from hair loss issues. We have a wide client base that consists of celebrity clients, R&B singers from the UK, and currently women from Marietta, Norcross and the states of Tennessee and Alabama." stated Monique Deering "Do not assume women in Atlanta wear hair extensions just because of vanity."
In 2010, Monique Deering, a native of Los Angeles, relocated her salon from Ellenwood to McDonough. We interviewed Monique so that we could better understand what inspired her desire to not only style women's hair, but also help them grow hair. Monique stated: "I noticed after servicing a few clients that women had a very few alternative hair growth options to combat their hair loss. I wanted my salon to provide a healthy hair care alternative to women's hair loss."
She added "I began to also notice our clients over the years have typically been affected by 5 types of hair loss. The types are Traction Alopecia also referred to as Traumatic Alopecia. Tinea Capitis is a scalp fungal issue such as ringworm; we have seen clients develop this scalp issue under a weave. Telogen Effluvium or stress induced hair loss, clients dealing with divorce or stressful work environments. Our 5 to 13yr old clients' hair loss I discovered is typically due to improper or outdated hair care practices. Lastly, we have helped clients with hair loss issues caused by lupus."
Monique gave us a tour of her new salon which is 2,200 square feet located in the heart of McDonough off of McDonough Parkway. After speaking with Monique about the salon's initiative all of our concerns in relation to this business's capacity to address these issues were quickly put to rest. Unique Creation Hair Studio houses five stylists with rooms for massage therapy and private consultations. According to Monique, "The private rooms allow the stylist to provide consultations with celebrities as well as women with severe hair issues discreetly.
"We take hair care and hair growth pretty seriously here. You would be amazed at how often we refuse to provide services to clients, regardless of cost, if we know the service will harm their hair" stated Darlene, a New York Vidal Sassoon Trained Stylist, of Unique Creations Hair Studios.
We asked Monique how it was possible that a salon was able to help clients when their dermatologist could not. Monique answered, "That is a complicated question due to the fact that, it could very well be the clients fault as well. Maybe the client waited too long or due to economic stresses sought poor alternatives."
According to the Food and Drug Administration (FDA), the only FDA-approved hair loss treatment for women is a 2 percent concentration of minoxidil topically applied to the scalp. Monique continued;
"Our job as stylist was not to figure out what the doctors were doing wrong, but what we could do right. So we created services around the hair loss issues affecting our clients. The Services consist of a Steam Treatment with a Deep Conditioner, BeanStalk Hair Growth Serum and Hair Vitamins. We decided to work with Atlanta's top cosmetic chemist to produce a Scalp Detox Treatment to remove product build up and other scalp inflammatory particles. The same techniques that are used on our clients are used in house by our stylist first. Once the techniques are proven to work, we then offer the services to our clients. Respectfully all of our stylists have a full head of natural healthy hair to include their edges."
About Unique Creations Hair Studios
Unique Creations Hair Studios is located at 1154 McDonough Parkway McDonough, GA 30253. Unique Creations is McDonough's 1st Hair Boutique and Natural Hair Salon. The company supplies wigs, hair extensions as well as BeanStalk Hair Growth Serum.