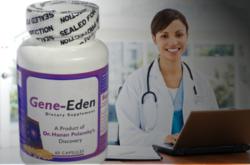 To avoid Herpes Zoster pain, we recommend Gene-Eden-VIR against the latent VZV. - Mike Evans, polyDNA
Rochester, NY (PRWEB) June 29, 2013
Chickenpox may lead to a lifelong latent infection with the Varicella Zoster Virus (VZV), a type of herpes virus. When VZV is reactivated, it is called herpes zoster. This reactivation is painful and usually shows up as a band of blisters. The risk of VZV reactivation increases with age. A new study published in April 2013 in the journal Pharmacy and Therapeutics (1) says up to 7 in 10 of those affected by herpes zoster will experience chronic pain. In fact, pain may last well after the signs of the VZV infection have healed.
"PHN is defined as herpes zoster pain that continues for more than 30 days after the onset of skin healing." (1) In fact, "PHN is the most common and most distressing sequela [condition] of herpes zoster in patients with intact immune systems." (1) Moreover, "PHN can affect [up to] 70% of herpes zoster patients, and the incidence increases with age." (1)
These findings are important for individuals to remember since "each 10-year increment in age [is] associated with a proportional increase in the incidence of the disorder." (1)
"Herpes zoster can cause you to experience constant dull, burning, or gnawing pain. To avoid that pain, we recommend Gene-Eden-VIR against the latent VZV. It makes sense to kill the virus before it has a chance to reactivate and cause pain that could last for months and maybe longer." – Mike Evans, polyDNA
The public, especially those over the age of 65, should be aware of Gene-Eden-VIR, a natural remedy that boosts the immune system and helps kill the latent herpes zoster virus.
Remember that "The key to your health is to reduce the level of the latent viruses in your body to harmless levels." - Dr. Hanan Polansky
In a post marketing clinical study, Gene-Eden-VIR was shown to be safe and highly effective against the latent herpes zoster virus. Over 70% of Gene-Eden-VIR users reported a reduction in VZV symptoms. (2)
Each capsule of Gene-Eden-VIR contains a patented formula of five all natural ingredients including selenium, camellia sinesis extract, quercetin, cinnamomum extract, and licorice extract. In addition, each bottle is GMP Certified. (3)
To learn more about Gene-Eden-VIR, the only product on the market today that helps the body target the latent herpes zoster virus and that is scientifically backed by published material, visit http://www.gene-eden-kill-virus.com.
References:
(1) http://www.ncbi.nlm.nih.gov/pmc/articles/PMC3684190/
(2) http://www.cbcd.net/Gene-Eden-VIR-Clinical-Study.php
(3) http://www.gene-eden-kill-virus.com/studies.php
polyDNA is a biotechnology company that develops dietary supplements using the unique scientific method developed by Dr. Hanan Polansky, which is based on Computer Intuition.
In addition to his unique scientific method, Dr. Polansky published the highly acclaimed scientific discovery called Microcompetition with Foreign DNA.
The discovery explains how foreign DNA fragments and specifically DNA of latent viruses cause most major diseases. polyDNA developed Gene-Eden-VIR, an antiviral natural remedy that helps the immune system kill latent viruses.