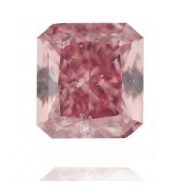 10% Discount on Entire Stock of Colored Diamonds
Ramat Gan, Israel (PRWEB) June 27, 2013
Naturally colored diamonds have a brilliance and beauty that is unrivaled by other gemstones. Created through naturally occurring processes deep within the earth, each stone is unique. Rarity also adds to their value, as only one diamond in ten thousand can be classified as a colored, or Fancy, diamond. Denir Diamonds is pleased to offer a 10% discount on their entire stock of colored diamonds from June 24 to July 24, 2013.
Colored diamonds are created when a foreign mineral is included in the formation of the diamond. Normally, impurities will lower the value of a stone. But when these impurities happen under the right circumstances, they can give a beautiful, even tone to the entire diamond. The exact shade and the depth of the color depend on which mineral is included, as well as in what quantity. Occasionally, more than one mineral impurity may be present, resulting in a two tone, or variably shaded, diamond.
Diamonds value is determined by the four Cs. They are Cut, Clarity, Color and Carat Weight. While all four factors are important and will affect the value of a particular stone, many experts now feel that color should be a prime factor influencing diamond selection.
Colored diamonds allow the wearer to express their own fashion sense. Available in virtually any color imaginable, there is a colored diamond to match any color scheme. Colors can range from pinks and reds to blues, yellows, greens and oranges. Additionally, the intensity of color varies from stone to stone. Also known as Fancy diamonds, the intensity of the color can be further classified in one of six levels. These levels are known as Fancy Light, Fancy, Fancy Intense, Fancy Deep, Fancy Dark, and Fancy Vivid.
Colored diamonds can also be used as an investment. Due to their rarity, good quality colored diamonds are in high demand. While natural, or clear, diamonds can be colored by a variety of artificial means, these artificially colored stones cannot match the brilliance and clarity of a naturally colored diamond. These factors have caused a high demand, and the value of colored diamonds has increased at a much higher rate than that of clear diamonds over the last decade.
Obviously, the rarer the color of the diamond, the higher the demand will be, thereby greatly influencing the price. As mines producing certain colors of diamonds begin to be exhausted, demand and price will also increase. For example, the Australian mine that produces Argyle pink diamonds has only another ten years of estimated production before all of the diamonds have been extracted. As it is, the amount of diamonds extracted in a single year would fit in the palm of one hand, making them some of the rarest diamonds on the planet.
Based in Israel, Denir Diamonds has access to diamonds from around the world. On many occasions, these diamonds will be available through Denir before they are offered on the open market. For more information about Denir Diamonds' selection of colored diamonds, contact them at 1-888-805-8665 http://www.denirdiamonds.com.
As seen on IDEX - Michael's intehttprview with Idexonline