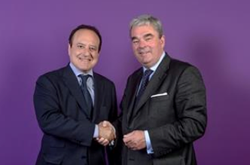 In times of market globalisation, France and Italy of wine have managed to cross fences with this exemplary initiative in the interests of the entire system
Verona, Italia (PRWEB) June 26, 2013
Union des Grands Crus de Bordeaux (UGCB) and Vinitaly have signed an agreement to coordinate their events in order to help buyers and media from around the world optimise their attendance at two of the main events in the wine calendar.
Well aware of the needs of the main players of the world of wine, top management at UGCB and Vinitaly have jointly decided to harmonise their calendars to avoid any overlapping of dates between "Semaine des Primeurs" in Bordeaux and Vinitaly in Verona, the two leading events traditionally held until now at the beginning of April.
In this context, the respective management teams agreed on timetables for the next four years and the two events will consequently be held on the following dates:
Semaine des Primeurs in Bordeaux
2014 - 31 March - 5 April
2015 - 30 March - 3 April
2016 - 4 - 8 April
2017 - 3 - 7 April
Vinitaly in Verona
2014 - 6 - 9 April
2015 - 22 - 25 March
2016 - 10 - 13 April
2017 - 26 - 29 March
Commenting on this important decision, Giovanni Mantovani, CEO & General Director of Veronafiere, said: "In times of market globalisation, France and Italy of wine have managed to cross fences with this exemplary initiative in the interests of the entire system. Starting from reciprocal acknowledgement of the importance of the two events, UGCB and Vinitaly acted with realism, professionalism and common sense in a context of maximum effectiveness."
On his part, Olivier Bernard, President of UGCB, highlighted: "The main concern for both our organisations is to satisfy the expectations of our customers, be they European, American or Asian. It was our duty to provide effective solutions and visitors will now be able to attend both Vinitaly in Verona and "Semaine des Primeurs" in Bordeaux."
About:
Veronafiere is the leading organizer of trade shows in Italy including Vinitaly (http://www.vinitaly.com), the largest wine event in the world. The 47th edition of Vinitaly counted some 148,000 visitors (+6%), of which 53.000 were international attendees (+10%) visiting from 120 countries. On 95.000 square meters, 4.200 exhibitors welcomed trade professional, media and producers alike. The next instalment of the fair with take place on 6th-9th April 2014. The premier event to Vinitaly, OperaWine (http://www.OperaWine.it) "Finest Italian Wines: 100 Great Producers" will unite international wine professionals on April 5th 2014 in the heart of Verona. Veronafiere also created Vinitaly International http://www.vinitalytour.com in 1998 to develop a global platform for the promotion of companies in the Italian wine and food sectors.
###