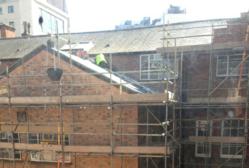 Bard House is already 80% let for the 2013/2014 academic year!
Nottingham, UK (PRWEB UK) 26 June 2013
The former university building which comprises 43 double studios and 9 single studios was originally set to be completed by Q3 2013, but speedy construction has determined that all kitchens and bathrooms have now been fully installed, leaving only the final pieces to be fixed in place.
The final touches however have been completed in the showroom and many students have toured around the studio, with many leaving with such a strong impression that they felt compelled to book rooms from September, allowing the development to be already 80% let for the 2013/2014 academic year!
Bard House is being developed by experienced developers Fortis and, in keeping to their exacting standards, this development, along with a host of others, is set to be completed ahead of schedule.
Fortis commenced work on the site just after New Year and Bard House is set to be completely finished within eight months of construction in August 2013.
Market leaders in worldwide property investments, Knight Knox International offers an extensive range of property and services on a global scale, from beach-front condos in Thailand and Turkey, to prime coastal land in Florida and boutique student accommodation and new-build residential projects in the UK.
If you would like to discuss further opportunities within the property market, please contact Knight Knox International on +44 (0)161 772 1370 or visit the website to view the full range of properties available.