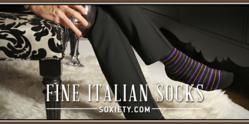 (PRWEB UK) 27 June 2013
SOXIETY was created for those who believe style is in the details. Timeless and made to last, the socks are all 100% designed and produced in Northern Italy from specialized artisanal manufacturers. Each pair of SOXIETY socks is made with the finest materials, ranging from mercerized cotton to cashmere. With its unparalleled direct relationships to premium suppliers, SOXIETY is able to offer the best socks that money can buy – for prices within everyone's reach. SOXIETY offers an array of styles, colors and patterns in ankle, mid-calf or knee-length for men. Individual pairs are an affordable 8£-25£, and are shipped to customers within four days via UPS Ground.
Since its debut in early February in the United States, SOXIETY has already been featured in Details, Women's Wear Daily and The Examiner as a breakthrough, niche service for businessmen and snappy dressers alike.
For the true collector and sock aficionado, one can become a member of the brand new, innovative SOXscribe service. With SOXscribe, three pairs of individually tailored socks are shipped to subscribers on a quarterly basis. After registering to SOXIETY, one simply accesses the dedicated SOXscribe page where he answers questions about preferred sock sizes, lengths and styles. There are then two options of service - "Pick Your Own Pair" offers an individual preference of socks each quarter, while "Soxiety Surprise" allows the designers of SOXIETY to artfully pick the most fashionable styles into a variety surprise pack. SOXscriptions range from 80£-95£. Also available as a gift with a personal message for its recipient, SOXscribe is an ideal way to show how much you care year-round.
Each season the SOXIETY design team will continue to unveil new exclusive collections, as well as interactive elements to the site like "Design Your Own Socks" as well as fresh editorial content in its blog "Sox Talk" and on social media.
The perfect pair of socks is a signature to your look, an asset to any outfit, and an everyday luxury that shows you care about the details. To learn more please visit http://www.soxiety.com. Follow us on Facebook, Instagram (@soxiety) and Twitter (@mysoxiety).
For press information please contact Alex Dickerson via email at alex.dickerson(at)soxiety(dot)com. For sales information please contact Edoardo Cela at edoardo.cela(at)soxiety(dot)com.