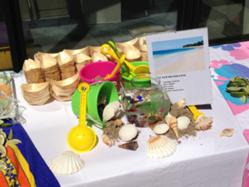 Rodney Kaufman and his team have always exceeded our expectations and have always been most accommodating and reassuring in making every event enjoyable and outstanding.
Toronto, Ontario (PRWEB) June 27, 2013
On Thursday June 27, 2013, Rodney Kaufman, President and Executive Chef of Impeccable Taste Catering, announced his extended lineup of distinctive summer flavours.
Catering to businesses in Toronto and the surrounding area, Impeccable Taste has earned a reputation for its avant-garde approach to events management. "We've seriously kicked it up a notch this summer," says Kaufman. "Our goal is to help our clients put on an unforgettable show, which is why we've announced an extension to our summer lineup. This season, it's all about being fresh, inventive and totally indulgent."
Always on the culinary cutting edge, this week, the Cordon Bleu-trained chef added a host of vibrant new entrees, appetizers, deserts and décor to his professional catering menu. In addition to picnic and beach-themed interactive food stations, here's just a sampling of the lineup:
Pea & Broad-Bean Hummus With Goat's Cheese and Sourdough
Crisp Prosciutto, Pea & Mozzarella Salad with Mint Vinaigrette
Dungeness Crab Piled on Grilled Toast
The Paloma Margarita
Fresh Minted Watermelon & Lime Martinis
Yellowfin Tuna with Cilantro, Spicy Salsa & Jicama Slaw
Southern Fried Chicken & Potato Skewers with Peach-Marinated Coleslaw
Homemade Yogurt with Local Ontario Honey
Summer Berries with Mint Tea & Lavender Shortbread
Double Cherry Semi Fredo
Citrus-Infused Watermelon
Impeccable Taste's team of industry experts is equipped to facilitate breakfasts, lunches and dinner meeting spreads in the boardroom or off-site. From convenient disposable trays for internal affairs to full china and glass service for special occasions, Impeccable Taste's business catering model integrates seamlessly into its clients' corporate culture.
Be impeccable. For more information on how to schedule a corporate catering event in Toronto, visit http://www.itcatering.ca.
Impeccable Taste Catering consistently delivers quality food that looks as good as it tastes. As far as catering services in Toronto, service, quality and presentation, like the name suggests, is impeccable, and each event is custom-tailored to suit the unique needs of each customer. Impeccable Taste Catering works with private individuals, companies and corporations in Toronto and the wider Greater Toronto Area markets. Services include expert event planning and catering for casual lunches, seminars, conferences, product launches, release parties, corporate affairs and weddings, among other social events. Born out of the philosophy that exceptional food must not only be meticulously prepared, but also artfully presented, our service offerings include colourful, eclectic and progressive menu options. Visit itcatering.ca for more details.