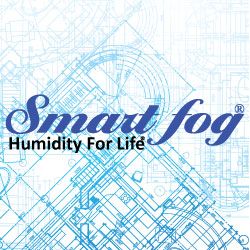 Smart Fog unique humidification technology is ideal for any size environmental chambers. The propriety algorithms maintain a constant relative humidity without affecting the controlled temperature.
Reno, NV (PRWEB) June 29, 2013
Smart Fog Inc announced this week the release of commercial humidifiers providing many features to meet the demanding needs of small chambers.
Small spaces provide many challenges to traditional commercial humidifiers. The limited space in the small chambers can cause condensation on the walls if the temperatures of the surfaces fluctuate. Smart Fog designed the new commercial humidifiers to enable the use in a small chamber environments. The humidifiers can control the pulse to make the fog shorter or longer. The precise control over the length and density of the fog avoids over shooting of the target relative humidity. The system can also control the water quantities injected into the air which also can control the fog length.
Smart Fog environmental chambers system come in two configurations wall mount and duct mount. Smart Fog wall mount configuration is a direct space unit which injects humidity into the air directly in the area. Smart Fog duct mount system is an induct humidifier designed to add humidity in the duct system feeding the target area.
Smart Fog in room commercial humidifier is class 1 division 1 and explosion proof compliant. The commercial humidifier operates pneumatically. The only electronic components in the controls and the sensors can be isolated utilizing compliant barriers to isolate from sensitive areas.
Smart Fog systems do not require regulation and can operate utilizing any standard compressed air supply and water supply.
Smart Fog factory calibrates all systems according to the customer specifications. All systems are plug and play ready to use per customer specification. Smart Fog CPLC controllers allows for detailed configuration and fine-tuning for best performance in the field.
About Smart Fog Inc.
In business since 1980, Smart Fog Inc. is the recognized world leader in non-wetting commercial and industrial humidification solutions. Smart Fog's unique technology provides precise humidity enforcement, light speed uniform coverage and intelligent non-fluctuating humidity control. All Smart Fog products are engineered and manufactured in the USA.
For more information, visit: http://www.smartfog.com