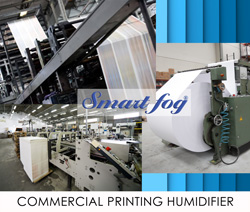 The exhibit will feature an interactive working printing humidifier for customers and prospects to experience the features and benefits of the Smart Fog non-wetting commercial humidifiers.
Reno, NV (PRWEB) June 28, 2013
Smart Fog Inc announced this week the exhibition of a fully operating commercial humidifier at the coming PRINT 13 show in Chicago.
Humidification is critical throughout the printing operation. The requirements of the printing press and every raw material in the printing process such as paper and ink demand precise relative humidity. The slight fluctuation of the relative humidity higher or lower than the ideal can cause cracks, papers curls, electrostatic and many other mechanical and material issues causing a decrease in quality, productivity and downtimes.
Maintaining the proper level of relative humidity allows the printer to maintain accurate and consistent quality of printing while saving ink and printing materials. The precise humidity control achieved through the new Smart Fog printing humidifier provides many benefits. The benefits directly translates into cost savings and enhances the end product quality bringing customer satisfaction.
Smart Fog printing humidifier incorporates the new human comfort chip. The human comfort technology feature ensures precise maintenance of the required relative humidity in the targeted zone while ensuring enhancing the human experience. The Smart Fog human comfort chip incorporates algorithms specifically designed to enhance the work environment for worker comfort feel and ensure a productive work environment.
Conventionally the humidity would be uneven throughout the facility. The humidifiers would be installed near the critical areas of the printing presses while the rest of the facility would have uneven humidity levels. Smart Fog systems ensure equal distribution of the humidity throughout the facility with no more than plus minus 1% variations from the targeted relative humidity. The installation can be done almost anywhere providing significant saving on the installation costs.
Smart Fog clean humidity technology ensures a clean environment. No residue, no duct and no mineral buildup on any surface or equipment.
Clean humidity means that the relative humidity will better register by the sensors and controls will react faster and ensure the system will always perform correctly without the need for calibration.
Smart Fog's printing humidifier will suppress bacteria, mold, dust and other organic pathogens in the air. The system will even eliminate electrostatic discharge (ESD) and will dramatically minimize downtime.
Smart Fog Inc will be exhibiting at the PRINT 13 the largest printing technologies exhibition in 2013. The PRINT 13 exhibition will take place on September 8-12, 2013 at McCormick Place in Chicago. Find Smart Fog exhibit at Booth 3550.
About Smart Fog Inc.
In business since 1980, Smart Fog Inc. is the recognized world leader in non-wetting commercial and industrial humidification solutions. Smart Fog's unique technology provides precise humidity enforcement, light speed uniform coverage and intelligent non-fluctuating humidity control. All Smart Fog products are engineered and manufactured in the USA.
For more information, visit: http://www.smartfog.com