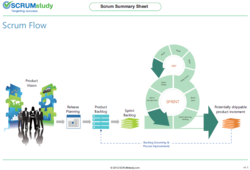 "Looking at the growing demand for Scrum Master courses, the company has decided to increase the number of cities. Scrum and Agile classroom courses will be now rolled out in Knoxville, Redmond, Richmond, Detroit, Sacramento, etc "
Phoenix, AZ (PRWEB) June 27, 2013
As the demand for SCRUMstudy's Scrum / Agile training and certification classes soars across the US and Canada, SCRUMstudy is wooing customers with greater convenience when it comes to locations and schedule. SCRUMstudy now offers its classroom courses in 84 cities across the US and Canada. In addition to offering classroom course at multiple venues in some major cities, SCRUMstudy also offers the choice of weekend and weekday classes.
The growing demand for professionals trained in Scrum is driven by the Scrum methodology being heavily adopted in product development. Its expanding popularity is due to its flexibility, simplicity and effectiveness. Though it began in 1990s and has been identified with the IT industry, Scrum has been finding favor as a product development framework across industries and even in fields as diverse as marketing, military recruiting, health care and custom, thin-film coating.
"Scrum Master and Product Owner are two important roles in the Scrum framework. The Product Owner oversees the business side of product development including requirements, prioritization, and stakeholder engagement and is regarded as the Voice of the Customer; while the Scrum Master helps coordinate the activities of the development team and ensures they have no obstacles. Each role needs to understand Scrum deeply from its perspective; therefore, we have separate courses to train professionals to manage the different roles effectively," SCRUMstudy spokesperson, Ruth Kim said.
SCRUMstudy offers the following classroom courses:
1. Scrum Master Certified - SMC - This two-day course is designed to provide professionals with a practical, working knowledge of Scrum that equips them to implement and work in a Scrum environment.
2. Scrum Product Owner Certified - SPOC- The two-day course trains professionals in Scrum with a business view of product development from a Product Owner's (a Scrum role) perspective.
3. Agile Expert Certified - AEC - A three-day course in and covers Agile methods such as Lean Kanban, XP, Scrum, DSDM, FDD and Crystal.
"The world is going Agile. Scrum training and Scrum certification is gaining a lot of traction. Only a handful of agencies award industry accepted certifications in Scrum. What sets us apart is our quality course ware; experienced faculty, well-designed case studies and simulation exercises that ensure the participants not only internalize the concepts of Scrum, but gain a practical working knowledge of Scrum that can be put into immediate action back in their organizations. This course methodology also makes our courses engaging and fun," Kim said.
She added, "Looking at the growing demand for Scrum Master courses, our company has decided to increase the number of cities where we offer classes. Scrum and Agile classroom training and certification courses will be rolled out in Knoxville, Redmond, Richmond, Detroit, Sacramento and many more cities. Metropolitan cities such as Chicago and Toronto will have classes at both downtown and suburban venues. The company has also recently launched classroom courses in Hong Kong, Dubai, Singapore and Bangalore as part of its Asia expansion. All our Scrum and Agile classroom courses will be available in these cities on a frequent schedule."
SCRUMstudy.com is owned by VMEdu, a training and certification technology company that has been funded by Sequoia Capital and owns other training brands such as PMstudy.com, MYITstudy.com and PROJstudy.com. PMstudy is the largest provider of project management certification trainings such as PMP (Project Management Professional) in North America.