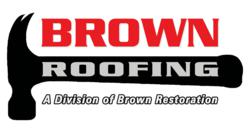 "Our emergency storm response teams enable us to get to people quickly to cover their roofs and minimize the rain damage. Once the storm has passed, roof repair can begin."
- Lloyd Brown, Owner, Brown Roofing
Kansas City, MO (PRWEB) June 28, 2013
Recent storms across the Midwest have kept Brown Roofing's emergency storm-response team very busy. Brown Roofing has served the Kansas City area for years and they understand the severity of the storms that pummel the Midwest. When storms are forecast for the Kansas City area, they assemble emergency storm response teams. These crews are prepared to respond quickly to frantic calls from home and business owners in the area. Spring and early summer mean monster storms and with every storm comes the potential for roof damage from minor to extreme.
From straight-line wind gusts of 70 mph or more that can rip shingles off of roofs and knock trees into buildings to the recent Derecho windstorms that occur once every year or two, Kansas City sees some of the worst weather this time of year. Straight-line winds, tornadoes, and hail are responsible for most of the roof damage Brown Roofing sees. They also offer free roof inspections which they encourage homeowners to take advantage of after any heavy storms. Brown Roofing's emergency storm-response services include:

Quick Tarping – keeps interior of home from suffering additional water damage
Fast Estimate Turnaround – we create estimates quickly so repairs happen faster
Coordinate with Insurance Companies – already networked with local insurance companies and handle all paperwork.
Brown Roofing has served the Kansas City area since 1995, is GAF/ELK certified and HAAG certified, and locally owned and operated. To learn more about Brown Roofing's Storm Response Teams, visit http://www.brown-roofing.com.